MOSCOW, May 11, 2010 (AFP) - Prime Minister Vladimir Putin Tuesday travelled to Siberia to meet victims of gas blasts in Russia's biggest underground coal mine, as the death toll rose overnight to 43, reports said.
A spokesman for the emergency services ministry told Ria-Novosti news agency that the toll had shot up by 11.
"The toll has now risen to 43 and 47 others are missing," he said.
Putin will visit the injured at a local hospital, Russian news agencies said, and then go to the Raspadskaya mine to inspect the rescue operation after Saturday's twin blasts.
The missing men were trapped about 490 metres (1,600 feet) deep in the shafts, said Vladimir Goryachkin, the deputy general director of Raspadskaya's owner, quoted by Russian agencies.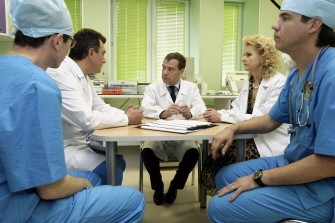 Russia's President Dmitry Medvedev (C) and Health and Social Development Minister Tatyana Golikova (2nd R) talk to medics in a hospital in Moscow on May 10, 2010 as they visit victims of the mine explosion. AFP photo
The mine has more than 400 kilometres (250 miles) of tunnels, a bigger network than the entire Moscow metro, he said. Television pictures showed that the surface infrastructure had been wrecked by the power of the blasts.
Putin on Monday ordered compensation of 32,900 dollars to be paid to the families of victims killed in the blast and smaller payments to those injured, the government said.
Raspadskaya is part-owned by steelmaker Evraz, a company 36 percent-owned by Chelsea Football Club's billionaire chief Roman Abramovich. The governor of the Kemerovo region, Aman Tuleyev, insisted the mine would be rebuilt.