Israeli Prime Minister Ehud Olmert is planning a major cabinet reshuffle which largely depends on the verdict in the sexual harassment trial of former justice minister Haim Ramon.
Olmert has been touting the idea of a government shake-up ever since last summer's war in Lebanon raised a chorus of calls in Israel for the resignations of both the premier and Defence Minister Amir Peretz.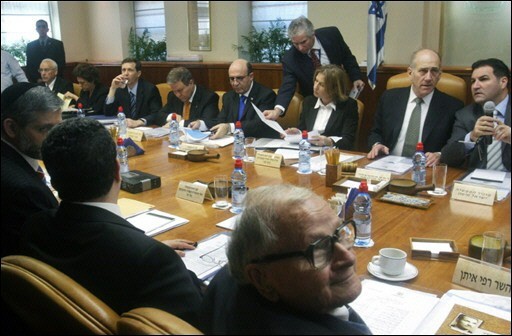 Israeli Prime Minister Ehud Olmert chairs the weekly cabinet meeting
"Prime Minister Ehud Olmert is planning a series of changes in his cabinet and Knesset (parliament) committees in the coming weeks," a senior government official told AFP on condition of anonymity.
Ramon, one of Olmert's closest political allies and a founder of his centrist Kadima party, abruptly resigned last August after he was accused of forcefully kissing a female employee.
Olmert appointed Foreign Minister Tzipi Livni, the most popular minister in government and his official number two, to temporarily handle the portfolio.
The Tel Aviv magistrate's court judge is to hand down his verdict on Wednesday and Israeli political circles are abuzz over its implications for Olmert's teetering 25-minister coalition government.
"We are all waiting for the result of Ramon's trial," the official said. "If he is found guilty, he will not return to his post and Olmert will have a lot of possibilities to move ministers around."
But Ramon has "Olmert's word that if he is fully acquitted, he would immediately return to his post."
Other than the justice portfolio, the prime minister intends to fill the long-vacant welfare cabinet seat and offer the chairmanship of parliament's powerful finance committee to one of his coalition members.
Another cabinet portfolio may also become vacant in the coming weeks if deputy prime minister and Nobel peace prize laureate Shimon Peres decides to stand for the Israeli presidency on behalf of Kadima.
Numerous scandals and corruption investigations surrounding Olmert and several of his close allies have dealt the 61-year-old premier an unprecedented slump in public support.
Government approval ratings took a hammering over the month-long war against the Shiite militants of Hezbollah in Lebanon and currently languishes at 14 percent.
A feeling that political and military leaders were to blame for failings during the war led to demands for Olmert, Peretz and army chief Lieutenant General Dan Halutz to resign.
Halutz stepped down two weeks ago. Seventy-seven percent of respondents in one opinion poll published this week said Olmert and Peretz should follow suit.
Officials say the prime minister is focused on finding a way to remove Peretz from the defence ministry. One suggested successor is former prime minister Ehud Barak, Israel's most decorated soldier who announced his return to politics in January.
Olmert believes that the dismissal of Peretz, a former trade union leader who has no military background, would be a first step towards restoring public confidence in his government.
"Olmert and other ministers want to move Amir Peretz from the defence ministry," a senior Labour party official says. "They do not trust him and feel he is not the right person to deal with the challenges Israel is facing today.
"The problem is nevertheless extremely complex because Peretz is simply not ready to step down right now."
Kadima MP Yoel Hasson said last week that Olmert planned to carry out a reshuffle "in the next two weeks" in which Peretz was likely to be a casualty.
In recent months, already frosty ties between Olmert and Peretz have been marred by repeated friction, which reached a climax earlier this month when a television report said the premier intended to dismiss his defence minister.
Peretz has repeatedly refused to resign unless the current inquiry into the government's conduct during the war finds him responsible for failings.