Seven people drowned and two were missing Sunday after a pleasure boat collided with a barge and sunk in the

Moscow

river, the emergency ministry said.
The number of bodies recovered rose to seven, the ITAR-TASS news agency reported, citing the emergency ministry, while seven had been rescued and two were believed to be missing.
The accident came less than three weeks after Russia's worst post-Soviet shipping accident, when 122 people died after a pleasure boat sank on the Volga river.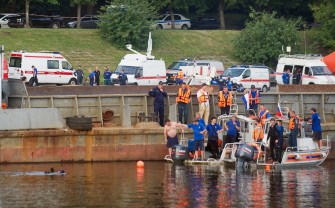 Resquers search for missing people in the Moskva river on July 31, 2011 in Moscow
"According to the provisional information, there were 16 people on board. The fate of two is still unknown," deputy emergency minister Alexander Chupriyan told the ITAR-TASS news agency.
An emergency ministry spokesman said earlier that the boat was carrying 17 people, including the captain.
"After the collision, the motor boat was pulled under the bottom of the barge," Chupriyan said, adding that the crew of the barge helped rescuers to pull out the passengers.
The motor boat collided with the barge at 00:58 am (2058 GMT Saturday) close to the city's Luzhniki sports stadium, upstream from the Kremlin, the emergency ministry said.
Witnesses said the motorboat was hosting a party and had circled the barge several times before the accident.
"There was a party going on the boat, they were celebrating something. We saw the boat sail around the barge several times," a witness told the Life News website.
Two Turkish nationals were among those rescued, ITAR-TASS reported, citing a rescue official.
The boat's crew apparently lost control of the steering while veering to avoid the barge, the Komsomolskaya Pravda newspaper reported, quoting passengers.
"The accident is provisionally believed to have taken place because of breaches of shipping rules," the deputy head of the city's emergency ministry, Yury Besedin, said in televised remarks.
On July 10, a 78-metre (255-foot) pleasure boat sank on the Volga in the central Russian republic of Tatarstan.
Russian Prime Minister Vladimir Putin blamed "greed" and gross safetly violations for the accident that killed 122 people, the deadliest shipping incident in recent mememory.
The 56-year-old vessel craft was overcrowded and operating without a proper license, officials said. Investigators have arrested the tour operator and a local licensing official and have promised to widen their criminal probe.