Serbia sought to turn the page on its troubled past as it prepared Thursday to hand over former Croatian Serb leader Goran Hadzic, the last remaining fugitive of a UN war crimes court.
Hadzic's lawyer said it was "realistic" to expect that his client would be on a plane to The Hague-based tribunal by Friday afternoon after he refused his right to appeal a Serbian court's decision to transfer him.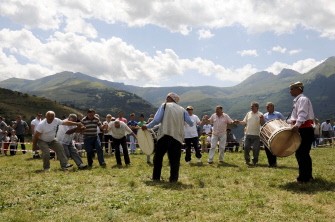 Kosovo Muslim-Bosnians perform a dance prior to the traditional sport competitions in the village of Gornje Ljubinje located in the border area with Macedoni, south of Kosovo on July 24, 2011.
Hadzic will spend his last two days in Serbia meeting with his family, lawyer Toma Fila added.
Hadzic's wife, son and sister visited him earlier on Thursday in a detention cell in Belgrade's court building. They refused to talk to reporters after the two-hour visit.
Serbia's deputy war crimes prosecutor Bruno Vekaric said the necessary documentation for his transfer had been sent to Justice Minister Snezana Malovic, who will sign the final order.
But Vekaric said the exact moment of the transfer would not be made public in advance, citing security reasons.
With the arrest of Hadzic Wednesday after seven years on the run, Serbia has finally fulfilled its obligation to hand over all suspects wanted by the International Criminal Tribunal for the former Yugoslavia (ICTY).
Full cooperation with the court was a key demand of the European Union as Belgrade hopes to get candidacy status and a date to start accession talks later this year.
"After 20 years, Serbia has broken free from the prison cell that held the country and its people," Interior Minister Ivica Dacic told Beta news agency after the arrest.
"The European Union should not blackmail Serbia, there are no reasons to impose (new) conditions on Serbia on the road to European integration," he said.
Serbian President Boris Tadic was cautious about linking Hadzic's arrest to EU membership, apparently disappointed at the response from Brussels after Belgrade captured Bosnian Serb ex-army chief Ratko Mladic less than two months ago after nearly 16 years on the run.
But Brussels had hailed the arrest, saying it would boost Serbia's chances of joining the bloc.
"This is a further important step for Serbia in realising its European perspective and equally crucial for international justice," EU president Herman Van Rompuy and European Commission chief Jose Manuel Barroso said in a joint statement.
However the head of the EU mission in Belgrade, Vincent Degert, warned that while "the fundamental obligations were met" much more remained to be done.
He highlighted the need for "internal reforms" and the need for Serbia to conform its legislation to European laws and "regional reconciliation and cooperation".
Serbia has refused to recognise the 2008 declaration of independence of its breakaway province Kosovo, which has been recognised by a majority of EU member states.
Hadzic, who had been on the run since 2004, was arrested in the idyllic mountain region of Fruska Gora near the northern city of Novi Sad.
He has been indicted over the massacre by Croatian Serb troops under his command of 250 Croats and other non-Serbs taken from a hospital in Vukovar after the city fell to Serbian troops following a three-month siege in November 1991.
The 52-year-old faces 14 counts of crimes against humanity and war crimes for the murder of hundreds of civilians and the deportation of tens of thousands of Croats by troops under his command during the 1991-95 Croatian war.
Croatia on Thursday also moved to stake a claim on Hadzic who has been convicted twice in absentia for war crimes and sentenced to jail terms by Croatian courts.
Zagreb also has an outstanding indictment for Hadzic on crimes committed in Vukovar.
Croatian Prime Minister Jadranka Kosor called on Croatia's legal institutions to "undertake the necessary measures with the aim of (Hadzic) serving the final sentences .... and to voice its readiness to take over prosecution for all war crimes Goran Hadzic stands accused of."
Legal experts, including Croatian President Ivo Josipovic, stressed that the UN tribunal has priority over local courts, but in the past the ICTY has transferred some of its cases to local courts in Bosnia, Croatia and Serbia.