Senegal's veteran President Abdoulaye Wade claimed Sunday he was ahead in a hotly-contested presidential vote.
Abdou Aziz Sow, electoral campaign spokesman for the octogenarian, said Wade had garnered 55 percent of ballots of the at least 60 percent of the votes counted.
The results were not officially confirmed.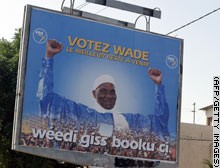 A campaign billboard of Senegalese President Abdoulaye Wade
Voters in Senegal thronged polling stations Sunday as Wade voiced confidence that he would win a second and final term in power in a poll see as a test case of the country's long-held reputation of democracy.
Voting was extended by several hours due to late delivery of polling material in some areas and a massive voter turn-out in some of the more than 11,000 polling stations scattered across the predominantly Muslim country.
Wade, 80, who was first elected in March 2000, was confident he would beat a record 14 challengers and garner the decisive 50 percent of the ballots needed to avoid a run-off round of voting.
"There will not be a second round, I will win," he said after he cast his vote in Dakar.
Announcement of unofficial partial results hyped tension in opposition ranks as many of his challengers, including a former prime minister he sacked two years ago, Idriss Seck, 47, have said only electoral fraud would make that possible.
Even before the official closing time of polls, Wade supporters drove across the streets of the capital blowing car horns in celebration.
Senegal is the only west African nation not to have experienced a military coup since its independence, in 1960.
Wade said he needed a second term to complete his year 2000 grand promises to reform the country, which had been under Socialist Party rule for the 40 years since independence from France.
He swept to power in a second-round vote in 2000, the first time in Senegal's post-independence history that elections went for a run-off. Wade ousted Abdou Diouf, succeeding on his fifth attempt at office after 26 years in opposition.
Wade has embarked on huge infrastructure projects such as freeways and hotels in a country popular among tourists, particularly the French, but his critics accuse him of falling short on job creation and tackling poverty.
Senegal ranks at number 156 out of 177 countries on the UN human development index and clandestine emigration by people seeking better lives abroad has become one of the electoral issues.
He "must reduce the prices of goods, gas, electricity and water. We are really fed up," said Nady Seck, a mother of nine in Dakar's most populous suburb of Guediawaye.
The election passed off peacefully across the west African country.
Polling in at least nine localities in southern Casamance did not open at least nine hours after the official starting time, due to late arrival of voting material, an official said.
Initially seen as a symbol of change after putting an end to four decades of socialist rule in the former French colony, Wade was Sunday up against some credible rivals.
Seck, 47, was considered the obvious successor to the head of state before they fell out and Wade had him imprisoned for seven months.
Other leading contenders are 60-year-old Ousmane Tanor Dieng, a socialist from the former ruling party, and Moustapha Niasse, 68, an ex-prime minister who served in the governments of both Wade and Diouf.
About 2,000 poll observers, including 500 foreigners, were watching the poll.