The US Senate will vote next week on a bill to prevent manufacturing jobs from moving overseas, in a bid to lower the high US unemployment rate.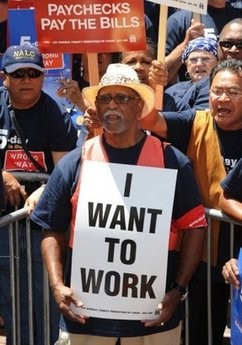 A man takes part in a rally demanding jobs in Los Angeles, California in August 2010.
On Tuesday the chamber will hold a first vote to decide whether to allow debate to go forward on the bill, which rewards employers who return jobs to the United States.
The move comes after President Barack Obama's fellow Democrats put off plans to hold a controversial vote before November's legislative elections to extend tax cuts enacted under president George W. Bush for middle-class Americans while eliminating those for the wealthy.
Republicans were quick to oppose the jobs bill, wary of granting Democrats a victory in what will likely be the upper chamber's last week before it adjourns for the elections.
"The majority has wasted months in this chamber trying to tell the private sector what to do instead of providing certainty to help them make investment decisions," Senate Minority Leader Mitch McConnell said Friday on the Senate floor.
"This bill will do nothing to create jobs in the United States."
But his Democratic counterpart, Harry Reid, hit back.
"Someone should start keeping a count of how many different ways Republicans will try to justify protecting CEOs who send American jobs overseas," his spokesman Jim Manley said in a statement.
This latest Democratic legislative attempt came after a measure aiming to overturn the military's ban on gays serving openly failed on Monday and a campaign finance reform bill was rejected on Thursday.
US voters will head to the polls on November 2 to renew all 435 seats in the House of Representatives -- a vote that takes place every two years -- and 37 of the 100 Senate seats.
Analysts project Republicans will regain control of the House.