The search for survivors of an Indonesian ferry disaster have moved to waters off the resort island of Bali as more were rescued hundreds of kilometres from where the ship sank a week ago.
"At this moment the search and rescue efforts have expanded to East Java, including the straits of Bali," Central Java provincial rescue coordinator Eko Prayitno told AFP.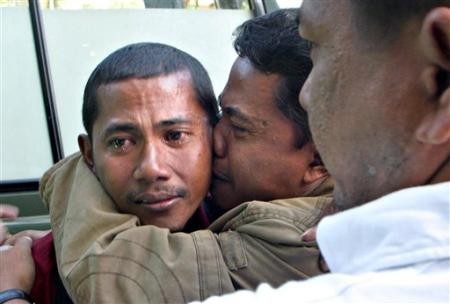 survivor of last week's ship accident, left, is embraced by a relative upon arrival at a military port in Surabaya, east Java, Indonesia, Friday, Jan.
"This is because of the currents, which are moving with a speed of 2.5 to three miles (four to five kilometres) per hour. Those afloat would have also moved further east, so our search has expanded to Bali today (Friday)," he said.
"The navy ships are still near Madura (island off East Java), but they are moving now," he said.
"We have also asked ships passing through Mandalika (where the ferry sank) and Bali to help in the rescue efforts."
The "Senopati Nusantara" (Archipelago Commander), carrying around 600 people, was en route from Kumai on Borneo island to Semarang in Central Java when it sank in a storm last Friday night.
Around 235 survivors of the disaster have been rescued so far, plucked from the seas, off life-rafts and from oil rigs and islands in the Java Sea.
One group was rescued by the navy after nearly a week on the open seas.
The "KRI Layang" picked up 15 people from the Senopati and 14 survivors of another shipwreck off Kangean island, about 120 kilometres north of Bali.
Anxious relatives hugged them tightly as soon as they were brought ashore Friday morning in the East Java port of Surabaya, as some survivors cried with relief, television pictures showed.
"They were all found off Kangean island," Surabaya general hospital spokeswoman Olfen told AFP.
"We are still treating them and some of them are in shock and very dehydrated because they were exposed for so many days out in the sea," she said.
Prayitno said the search would continue for hundreds of people still missing, even though Indonesia usually calls off searches seven days after a disaster.
"Today was supposed to be the seventh and last day of the search and rescue operation, but the president has instructed us to continue the search and we are quite optimistic that we can find more survivors," he said.
Survivors have been spotted on liferafts, but bad weather and huge waves have hampered efforts to get them to safety.
Fishing boats were ordered to stay in port earlier this week due to the bad weather.
The exact location of the wreck is unknown. Officials said the navy would not be able to start the search using sonar until conditions improved.
Preliminary investigations show bad weather was to blame for the accident, transport safety officials have said.
Passengers have described panic and confusion on the ship as it sank in minutes late at night in a storm off Java.
The vessel was carrying 542 passengers and 57 crew. It was licensed to carry 850.
Ferries are a crucial link between the archipelago nation's 17,000 islands and frequently carry more people than officially acknowledged.