DAMASCUS, Aug 8, 2011 (AFP) - Saudi Arabia recalled its envoy to Damascus and the Arab League condemned violence in Syria, leaving President Bashar al-Assad further isolated even as he defended his crackdown on "outlaws."
Hours after the envoy's recall, rights activists said on Monday a mother and her two children were shot dead by security forces in the eastern city of Deir Ezzor, where 42 people were reported killed on Sunday in an army assault.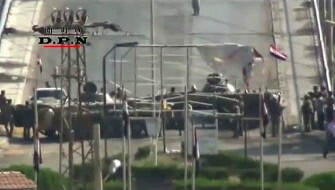 AFP - An image grab taken from a video uploaded on YouTube shows Syrian tanks deployed on a bridge in the eastern Syrian city of Deir al-Zor on August 7, 2011
The surprise move by Riyadh, the Arab world's Sunni Muslim heavyweight, marks a major escalation of international pressure on Assad's regime for its brutal repression of a pro-democracy uprising that has left more than 2,000 people dead.
"Saudi Arabia announces the recall of its ambassador for consultations," King Abdullah said in a statement after Syrian security forces had killed more than 50 people on Sunday.
The statement urged Damascus to "stop the killing machine and the bloodshed... before it is too late."
"The kingdom does not accept the situation in Syria, because the developments cannot be justified," Abdullah said, urging "comprehensive and quick reforms."
"The future of Syria lies between two options: either Syria chooses willingly to resort to reason, or faces being swept into deep chaos, God forbid," he said.
"Large numbers of martyrs have fallen, their blood has been shed, and many others have been wounded... This is not in accord with religion, values and morals," he said.
He reminded the Syrian government of Saudi support "in the past," but said that the Gulf kingdom had to take an "historic" decision.
The US envoy to Damascus, Robert Ford, who returned to Syria on Thursday, said in a television interview on Sunday that Washington will "try to ratchet up the pressure" on Assad's regime.
Ford, who infuriated Damascus by visiting the flashpoint protest city of Hama last month, also told ABC news that the violence against protesters was "grotesque" and "abhorrent."
Security forces on Monday shot dead a mother and her two children fleeing the military assault on Deir Ezzor, the Syrian Observatory for Human rights cited residents as saying.