BRUSSELS, Sept 16, 2010 (AFP) - French President Nicolas Sarkozy stunned a European summit Thursday, clashing with top officials and tripping up on a claim that Germany was about to copy controversial Roma deportations.
Sarkozy angrily rejected suggestions by the European Union's justice commissioner that drew parallels with World War II-era expulsions, unleashing a heated row with the bloc's top executive and snide exchanges with key figures.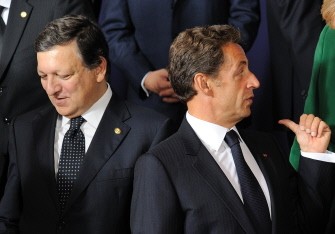 French President Nicolas Sarkozy (R) gestures at European Commission President Jose Manuel Barroso during a family photo of an European Council summit on September 16, 2010 in Brussels. AFP
Even after the dust settled, with threats of Brussels legal action receding as allies closed ranks, the French leader found himself on the receiving end of a severe clip round the ear from German Chancellor Angela Merkel.
The dispute shattered the EU's agenda and hung heavy in the air, as Sarkozy accused the bloc's justice commissioner of "outrageous" comments and vowed to continue clearing "illegal camps," claiming the support of partners.
Viviane Reding's insinuation that the return of planeloads of Roma Gypsies to Romania and Bulgaria smacked of World War II scenarios was "a historical shortcut that profoundly hurt the French," Sarkozy said.
"These words were deeply hurtful, my duty as head of state was to defend France. All heads of state and government were shocked by the outrageous comments," he said.
German Chancellor Angela Merkel initially offered unstinting support, describing the historical parallel as "unfortunate," while British Prime Minister David Cameron also said he was "shocked."
But Sarkozy went too far with the claim that Merkel had told him Berlin would shortly order a similar clearout, and her office issued a firm rebuttal.
"Chancellor Merkel never spoke of so-called Roma camps in Germany, neither during the summit nor on the margins with the French president -- and in no case would she have spoken of evacuations," government spokesman Steffen Seibert said in a statement.
Seemingly by way of justifying his own position, Sarkozy had said "we will see then how calm German politics is."
The son of a Hungarian immigrant, the French leader had already taken pot-shots from Luxembourg Prime Minister Jean-Claude Juncker and Bulgarian premier Boyko Borisov, who revealed to journalists the lunchtime bust-up with European Commission boss Jose Manuel Barroso.
Sarkozy denied he had argued with Barroso but several sources confirmed the dispute. Juncker said it was "testosterone-heavy" and Borisov termed it "fierce" even if Barroso himself refused all comment, saying it was time to move on.
But another source said Barroso "vigorously defended" the role of the commission, which polices the application of EU-wide laws governing freedom of movement for all citizens.
Hoping to stem the rift, EU president Herman Van Rompuy called for a "respect" agenda at the summit's official close.
He said there was an EU consensus to ban discrimination based on nationality or ethnicity though member states could take domestic measures "to ensure respect of the law," on condition they were in line with EU legislation.
Backed by her boss, Reding had also threatened to drag Paris before the European Court of Justice.
Despite it all, Sarkozy said French authorities would continue to dismantle "all illegal camps," whoever they belonged to.
Originally scheduled to look at foreign policy, economic and trade issues, EU leaders did seal a ground-breaking free-trade deal with South Korea, urged Israel to extend a freeze on new settlement building in the West Bank and agreed in principle to help flood-hit Pakistan.