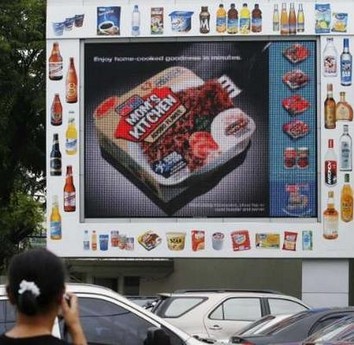 San Miguel Corp food products display at the video monitor outside a warehouse along the busy street of Manila.
San Miguel Corp of the Philippines said Friday it wants to expand brewing operations in Viet Nam and possibly into neighboring Cambodia.
Local press reports said San Miguel, Southeast Asia's largest publicly-listed food, beverage and packaging group, would spend up to eight million dollars to build up the capacity of its Viet Nam plant.
"The company confirms that it intends to expand its presence in Viet Nam and that it is studying the feasibility of putting up a brewery in Cambodia," San Miguel said in a brief statement to the Philippine Stock Exchange.
It did not give any financial details in its disclosure.
In the press reports, San Miguel beer division assistant vice president Benjamin Aton was quoted as saying that a brewery in Cambodia might cost 16 million dollars.
The company plans to spin off its domestic beer business under San Miguel Brewery Inc. for an initial public offering possibly before the year ends.
San Miguel, which is 20 percent owned by Kirin Holdings of Japan, also plans to venture into other businesses such as power generation and transmission, water and other utilities, mining and infrastructure.