South

Korea

n President Lee Myung-Bak has warned Japanese lawmakers against visiting a site near islands claimed by both nations, saying their safety cannot be guaranteed, an official said Wednesday.
The neighbours are facing a renewed escalation in a decades-old territorial row over the Seoul-controlled Dokdo islands in the Sea of Japan (East Sea), which are known as Takeshima in Japan.
The latest row began when flag carrier Korean Air operated a test flight of its new A380 aircraft over Dokdo in June. Tokyo in response ordered public servants not to use Korean Air for a month.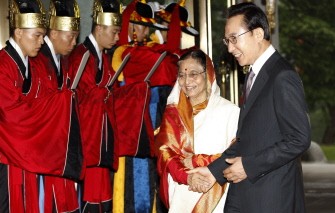 South Korean President Lee Myung-bak (R) greets visiting Indian President Pratibha Devisingh Patil before their summit at the presidential Blue House in Seoul July 25, 2011
Four lawmakers from Japan's conservative opposition Liberal Democratic Party also announced a plan to visit Ulleung island, the closest South Korean territory to Dokdo -- sparking anger among Seoul officials and activists.
Lee, at a cabinet meeting Tuesday, ordered officials to advise Tokyo that Seoul "cannot guarantee the lawmakers' safety" and to urge them to cancel the visit, a presidential spokesman said.
He did not elaborate on the safety concerns.
Several civic groups have held protests outside the Japanese embassy in Seoul, and some pledged to try to block the lawmakers from landing at Ulleung island.
South Korea, which was colonised by Japan from 1910-1945, has sought to strengthen its control over the islets after Japan in March authorised new school textbooks reasserting its claims to them.
Wednesday's Korea Herald in an editorial called the upcoming visit an unfriendly gesture but said Korea should ignore it rather than try to block it.
There was "little reason to feel particularly uncomfortable when the Japanese group steps on Ulleung-do (island) as tourists," it said.
"If they engage in any political action on the island, then they may be treated accordingly."
jhw/sm/sls