South Korean troops launched a major exercise Thursday near the tense sea border with North Korea as the US and South Korean defence chiefs discussed ways to thwart potential attacks by the North.
The two-day drill was being staged near Baengnyeong, a frontline island in the Yellow Sea, as part of a nationwide exercise that will last until November 4, military authorities said.
"This is a joint drill involving Marines, jet fighters, naval ships and army troops," a South Korean Joint Chiefs of Staff spokesman told AFP, adding there would be live-fire exercises.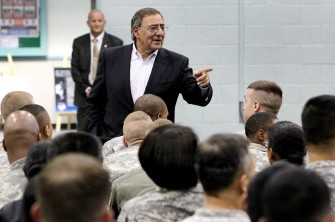 US Secretary of Defense Leon Panetta talks with soldiers upon his visit to the Yongsan US army base in Seoul on October 26, 2011
South Korea has staged a series of drills alone or jointly with US troops since Seoul accused Pyongyang of torpedoing a warship near the island with the loss of 46 lives in March 2010.
Military officials have not given troop numbers for the nationwide exercise. Yonhap news agency said it would involve 140,000 troops including some 500 US Marines and sailors.
No US troops are taking part in the two-day drill in the Yellow Sea.
North Korea habitually denounces such military manoeuvres as a rehearsal for invasion.
The disputed border was the scene of deadly naval clashes in 1999, 2002 and 2009. One of the frontline islands was attacked last November by the North's artillery and four South Koreans were killed.
The drill came as US Defense Secretary Leon Panetta met his South Korean counterpart Kim Kwan-Jin at the start of an annual security meeting to discuss their joint defence posture.
Panetta pledged Wednesday to maintain the security of close ally South Korea, including retaining a "nuclear umbrella", to deter threats from its communist neighbour.
The US and South Korean militaries "stand prepared to defeat the North should it ever force war upon us", he wrote in an article in Chosun Ilbo newspaper, saying it remains a serious threat.
The United States bases 28,500 troops in the South.