Ukrainian President Viktor Yanukovych has stunned many with his embrace of the Kremlin, but analysts say he will resist falling deeper into Moscow's orbit when he meets his Russian counterpart this week.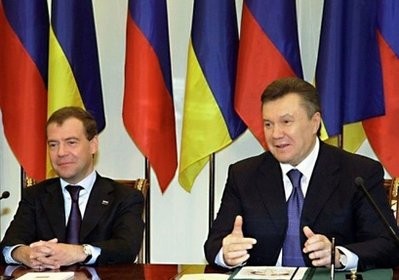 Russian President Dmitry Medvedev (L) and Ukrainian President Viktor Yanukovych speak at a news conference after they signed documents in Kharkiv on April 21.
Russian President Dmitry Medvedev is set to visit Kiev on Monday and Tuesday for talks with Yanukovych, and his trip has raised fears among the pro-Western opposition that Moscow will expand its influence in Ukraine.
Last month, Yanukovych outraged opposition parties by signing a deal with Medvedev that allows Russia to maintain a naval base on Ukraine's Crimea Peninsula until at least 2042 in exchange for cheaper natural gas.
The deal sparked chaos in Ukraine's parliament as opposition lawmakers threw eggs and smoke bombs and brawled with their pro-Yanukovych counterparts during the session in which the naval base agreement was ratified.
The head of Ukraine's largest opposition party, Yulia Tymoshenko, has warned that Yanukovych's policies will undermine the sovereignty of Ukraine, which won independence in 1991 after being ruled by Moscow for centuries.
But analysts say such concerns are overblown, and Yanukovych has sought in recent days to allay fears that he plans to give up Ukraine's most prized assets to Russia.
In fact, the Yanukovych team is likely to start balancing its pro-Russian foreign policy with outreach to the European Union, predicted Nico Lange, director of the Kiev office of Germany's conservative think tank Konrad Adenauer Foundation.
"It is not in their interest to hand Ukraine completely over to Russia," Lange said. "Their idea is to play with both sides and get some gains for Ukraine."
On Friday, Yanukovych rejected as "impossible" one of the most contentious proposals for Russian-Ukrainian cooperation -- the idea of merging Ukraine's state gas firm Naftogaz with Russian energy giant Gazprom.
The idea of a tie-up between Naftogaz and the much larger Gazprom was suggested last month by Russian Prime Minister Vladimir Putin, in comments that apparently caught Ukrainian officials off guard.
Last week, Ukrainian Deputy Prime Minister Andrei Klyuyev said no energy agreements would be signed during Medvedev's visit.
But the two ex-Soviet neighbours are still set to sign five agreements during Medvedev's visit, including a potentially controversial deal on demarcating the Russian-Ukrainian border.
Opposition leader Tymoshenko has warned the border deal may lead to Ukraine giving up offshore oil and gas deposits in the Azov Sea as well as the island of Tuzla, the subject of previous Russian-Ukrainian border disputes.
Any surrender of territory to Russia would be a "sensation" and would give more ammunition to Ukraine's pro-Western opposition, said Volodymyr Fesenko, head of the Penta centre for political research in Kiev.
"If this happens, it will clearly lead to a new wave of accusations, because now we won't be talking about abstract and symbolic losses like the presence of the Black Sea Fleet, but actual losses of territory," Fesenko said.
However the head of Yanukovych's administration, Sergei Liovochkin, said last week there would be "nothing anti-Ukrainian or revolutionary" in the agreements signed during Medvedev's visit.
Besides the border deal, Moscow and Kiev are to sign agreements on GLONASS, a space-based navigation system that Russia is promoting as a rival to the United States' GPS, as well as in banking, science and culture.
Medvedev and Yanukovych will pay a symbolic joint visit to the Kiev Caves Monastery, one of the holiest sites in the Orthodox Christian faith shared by Russia and Ukraine, the Kremlin said in a statement ahead of Medvedev's visit.
The Kremlin said it expected Medvedev's visit to build on the "serious positive changes" that Russian-Ukrainian ties have enjoyed since Yanukovych's inauguration less than three months ago.
Yanukovych was elected president in February, replacing Viktor Yushchenko, a pro-Western politician who had chilly relations with Russia.