Russian Prime Minister Vladimir Putin lashed out Monday at "arrogant world powers" as he hosted his Chinese counterpart Wen Jiabao for a regional security summit Moscow bills as a counterpart to NATO.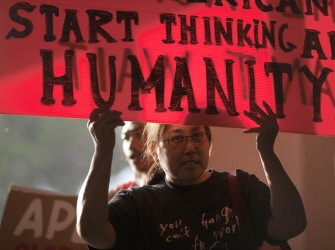 Members of the Occupy Honolulu movement hold banners denouncing the upcoming Asia-Pacific Economic Cooperation (APEC) summit during the student-hosted 'APEC Night' rally held at the University of Hawaii at Manoa Campus on Thursday, November 3, 2011 in Honolulu, Hawaii.
Russia's likely new head of state after next year's presidential elections accused Western nations of hypocrisy for backing revolutions in North African countries that previously enjoyed their strong support.
"It really is just like you said -- these are arrogant world powers," Putin said in response to remarks from Iranian Foreign Minister Ali Akbar Salehi made during the Shanghai Cooperation Organisation (SCO) summit in Saint Petersburg.
"They also supported the old North African regimes," news agencies quoted Putin as saying in a clear reference to European powers and the United States.
"But what is interesting, they also supported the North African revolutions as well, the ones that overthrew the old regimes."
Russia strongly opposed NATO's air campaign in Libya and has warned the West against acting tough towards its close Soviet-era ally Syria.
The 10-year-old SCO joins Russia and China with the four ex-Soviet states of Central Asian in a loose security union that Moscow hopes to develop into a more powerful force rivalling the Brussels-based NATO bloc.
Iran is one of three nations along with Pakistan and Iran to have applied to join the organisation. Mongolia also has observer status. Monday's summit brought together mainly prime ministers from the SCO's member and observer states.
But the group made no formal decision on expansion at Monday's meeting and was short on other concrete results.
"Russia would welcome the positive review of applications to join our organisation in one form or another from any interested nation," Putin was quoted as saying.
Pakistan's application has been under review since 2006 and some analysts question the nation's actual ability to closely coordinate their policies on major international security issues such as Afghanistan.