Russian officials say they have recovered a body from a provincial village gutted by wildfires, while another victim has died in the hospital, taking the death toll from hundreds of blazes nationwide to at least 50.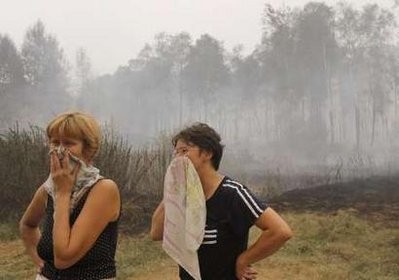 Local residents cover their faces with cloth, with a heavy smog shrouding the forest, outside the town of Elektrogorsk, some 60 km (37 miles) east of the capital Moscow, August 3, 2010
The Emergencies Ministry said in a statement Thursday that almost 600 separate fires were still raging, mostly in Russia's European territory, to the west.
A thick smog that had blanketed Moscow partially lifted early Thursday but could return, officials warned.
Russia is suffering through its worst heat wave on record, pushing forest and peat fires across its central and western regions. Temperatures for weeks have soared as high as 38 Celsius (100 Fahrenheit) in Moscow, where the average summer temperature usually is around 23 Celsius (75 Fahrenheit).