KAMSKOYE USTYE, Russia, July 11, 2011 (AFP) - An overcrowded cruise ship sank in a storm on Russia's Volga river killing 12 people and leaving 100 missing and presumed dead, officials said Monday.
Investigators said that the ageing craft with a capacity of 140 passengers but carrying around 200 had engine trouble even before setting out on the cruise and was seen to be listing to one side before the disaster.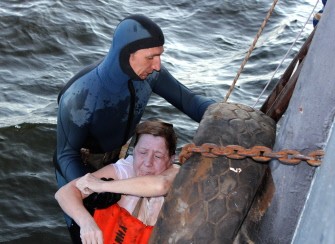 AFP - A handout photo provided on July 11, 2011 by Russia's Republic of Tatarstan Emergencies Ministry shows a diver lifting on July 11 a victim of the Bulgaria river cruise ship
"Even before it left (its home port) Kazan, the boat had a problem with the main left engine, but went out to the cruise nevertheless," transport investigators for the Volga region said on the official website.
Sunday's accident happened three kilometers (two miles) from the shore near Syukeyevo village in Tatarstan, some 800 kilometres east of Moscow.
The boat sank at one of the widest points of the river -- just downstream from a reservoir that stretches more than 20 kilometres from shore to shore.
Passing boats picked up some 80 people from the river leaving more than 100 unaccounted for.
Survivors and other witnesses described a Sunday afternoon storm that suddenly made the two-deck boat list right in a wide bend of the river before it capsized and sank in a matter of minutes to a depth of 20 metres (65 feet).
There was no time to use the two lifeboats on board as the boat quickly filled with water.
"We are hoping that there are remaining pockets of air where people can breathe," head of Volga region emergency ministry branch Igor Panshin on state television.
But emergency ministry spokeswoman Svetlana Lebedeva told AFP finding survivors inside the sunken boat was "unlikely."
Some of the bodies recovered by divers had lifejackets, indicating that the sinking was so swift they most likely did not have time to run up to the deck.
"If the hold was open, then water went inside very quickly as the boat turned over," Lebedeva said.
A group of relatives hoping for news of their loved-ones stood huddled together Monday morning at the camp set up by the emergency situations ministry as a base for rescue efforts on the shore of the Volga river about 130 kilometers (80 miles) from regional capital Kazan.
Several weeping survivors draped in thick blankets said lives were lost because some passing boats never stopped to help.
"Two boats went by without stopping, even though we waved and waved," said survivor Nikolai Chernov on state television.
He added that the cruise ship was very old, compounding the problems caused by overcrowding and adding to fears that safety regulations were not observed.
Russia's investigative committee has launched a probe into possible violation of safety regulations, spokesman Vladimir Markin told Russian agencies.
People discussing the accident on the forum infoflot.ru said the boat was hit by a storm in the same spot in 2007 leaving its deck flooded.
"Half the fleet should be retired. How much longer will we use these dumps?" one comment, signed Casper KS, said of Russia's aging river fleet.
State news reports said the Bulgaria was built in 1955 in what was then Czechoslovakia and was one of 36 similar craft sent to the Soviet Union.
The same kind of vessels are now used from rivers in Ukraine to distant parts of northern Siberia.