MOSCOW, Aug 12, 2010 (AFP) - Russia on Thursday insisted that radiation was normal in regions contaminated by the Chernobyl disaster amid concerns forest fires could send a cloud of radioactive particles as far as Moscow.
"We have a full network of monitoring and we carry out frequent observations," the deputy head of Russian state weather forecaster Rosgidromet Valery Dyadyuchenko told the Interfax news agency.
"A worsening of the radiation situation and a growth in the background radiation as a result of a transfer of materials from the fires have not been recorded anywhere in Russia," he said.
Russia's state forest watchdog Wednesday admitted wildfires hit hundreds of hectares of land in the western Bryansk region contaminated by the Chernobyl nuclear disaster, raising fears that buried radioactive particles could be released into the air.
The forest watchdog quoted data from August 6 but emergency ministry officials denied there were any fires currently burning in the area.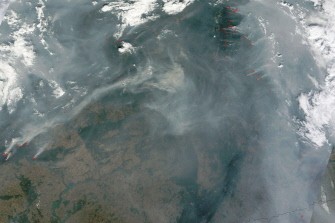 This August 11, 2010 NASA satellite image shows smoke from wildfires burning in Russia. AFP
Russian authorities said there was no reason to panic and played down fears that the fires could create a cloud of radioactive particles by raising contaminated matter out from the soil.
But Alexei Yablokov, a former official on ecological questions at the Russian security council and a founder of Greenpeace in the Soviet Union, told Interfax the particles risked being blown onto Moscow or Eastern Europe.
"The particles could be transferred hundreds of kilometres depending on the weather conditions.
"If the Bryansk region is on fire, they (the particles) could turn up in the Novgorod region (to the north), in Moscow and in certain circumstances in Eastern Europe," he said.