Russia is concerned by media reports that military action against Iran could take place soon, Russia's RIA-Novosti quoted the acting Russian foreign minister Tuesday.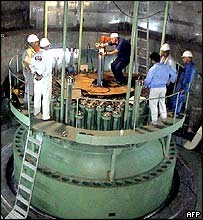 Iran has denied its nuclear work is intended to develop weapons. (AFP Photo)
"I think we should not forget about the part of the agreement, which proposes developing dialogue with Iran, including settling issues related to its nuclear program, trade and economic affairs and security," Sergei Lavrov told journalists after a meeting with his French counterpart Bernard Kouchner reported to focus on Iran.
"Numerous reports on the possible implementation of military action against Iran are causing concern," he said.
American media recently carried reports saying the Bush administration is preparing to make a preemptive strike on Iran and that aerial bombing of Iranian facilities could start in the spring or summer of 2008.
Western countries suspect Iran of pursuing a secret nuclear weapons program, but the Islamic Republic recently intensified cooperation with the IAEA, and invited weapons inspectors to visit a 40-MW heavy water reactor in Arak in late July.
Lavrov also said U.S. and EU sanctions against Iran complicate the negotiating process on the settlement of the Iranian nuclear problem.
Iranian President Mahmoud Ahmadinejad said Tuesday Tehran is not taking the French foreign minister's statements regarding Iran seriously.
Amid mounting frustration over Iran's refusal to halt its nuclear program, the French foreign minister provoked anger in the Islamic Republic in a hawkish interview broadcast on French TV and radio on Sunday, saying that if Tehran develops an atom bomb, "we must prepare ourselves for the worst," adding: "the worst means war."
"Statements made for the media differ from actual statements, so we don't take such threats seriously," Ahmadinejad said.
Iran's Foreign Ministry said Monday Kouchner's statements are out of line with EU policy regarding the Islamic Republic and could harm Paris's influence in the Middle East.
Iran has defied three consecutive UN resolutions against its nuclear program since last year. The six countries negotiating the dispute - the five permanent members of the UN Security Council plus Germany - have demanded that Tehran suspend all uranium enrichment before negotiating a solution to the dispute.
Ahmadinejad announced in early April the start of uranium enrichment on an industrial scale.
Lavrov also said Tuesday that the experience of talks on the North Korean nuclear problem could be used in the resolution of the Iranian issue.
Under a February 2007 agreement, in exchange for North Korea's denuclearization and information on all its nuclear programs, the reclusive state will receive 950,000 metric tons of fuel oil for its thermal power-generating plants in addition to the 50,000 already delivered by South Korea for the closure of its only operational nuclear reactor at Yongbyon.