BEIJING, Sept 27, 2010 (AFP) - The leaders of China and Russia celebrated Monday the completion of a cross-border oil pipeline, a symbol of growing ties between the two emerging economic powers, particularly in the energy sector.
Visiting Russian President Dmitry Medvedev and his Chinese host President Hu Jintao attended a launch ceremony for the long-awaited pipeline linking the world's biggest oil producer with the largest energy consumer.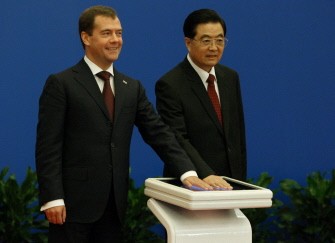 Visiting Russian President Dmitry Medvedev (L) and Chinese President Hu Jintao (R) launch the Chinese section of the first crude oil pipeline between Russia and China during a ceremony in Beijing on September 27, 2010. AFP
The deal reached last year -- which will see China receive oil for 20 years in exchange for 25 billion dollars in loans -- is a "milestone" for energy cooperation between the two neighbours, Hu said.
The countries are still finalising a deal that could see 70 billion cubic metres of Russian natural gas sent to China each year, and have also announced plans to jointly build a five-billion-dollar oil refinery in northern China.
"Both sides believe that the current strategic partnership between China and Russia stands at a new starting point," Hu said after talks with Medvedev, hailing a "new era" in ties.
"The smooth completion of the pipeline project is a model of the two countries' mutually beneficial win-win cooperation and a milestone for Sino-Russian energy cooperation," state media quoted Hu as saying.
The two leaders signed a series of economic and political agreements, including pacts on cooperation in future gas supplies, energy efficiency, renewable energy, nuclear power and the prevention of illegal fishing.
Medvedev -- who is visiting China for three days -- said the documents would give a "new impetus" to the Sino-Russian relationship.
Energy supplies account for the bulk of Sino-Russian trade but Moscow also wants to secure Beijing's help in modernising the Russian economy and is seeking broader Chinese investments and know-how in various sectors.
"Today, Russia and China are largely solving similar tasks as they move along the path of comprehensive modernisation," Medvedev told China's official People's Daily, in comments released by the Kremlin.
"Never before have our ties been characterised by such a high level of mutual trust," Medvedev said, adding that his government welcomed Chinese investments in high-tech industries including aircraft construction.
Trade between Russia and China totalled 25.5 billion dollars in the first six months of this year, according to official data.
The deal on the oil pipeline -- which runs from eastern Siberia to the northeastern Chinese city of Daqing -- is part of efforts by Moscow to seek new markets for its crude exports, especially in fast-growing Asia.
Beijing is also looking to secure much-needed resources to fuel its booming economy, now the second largest in the world behind the United States.
Relations between Moscow and Beijing -- once bitter foes during the Cold War -- have a turbulent history, but have improved dramatically in recent years.
Both countries view themselves as counterweights to US global dominance, but Moscow has viewed China's rapid economic rise with some unease.
Nikolai Tokarev, head of the Russian oil pipeline monopoly Transneft, said commercial supplies from the pipeline would begin from January 1, and that 15 millions tons of crude would initially reach China each year.
Russia's Gazprom, the world's largest gas producer, signed a framework agreement with China National Petroleum Company (CNPC) last year on shipments of natural gas to China, but the two sides have yet to sort out a pricing deal.
Russian Deputy Prime Minister Igor Sechin, the country's powerful energy czar, said the agreement would be finalised by mid-2011.
"Cooperation between Russia and China in the gas sphere is strategically promising. In this sense, Russia is a natural partner for China," Sechin said.
Medvedev arrived in Beijing from the northeastern city of Dalian, where he paid respects to Soviet-era soldiers who died defending the port from Japanese invaders and said the ties between the two countries were "sealed by blood."
He was to visit the World Expo in Shanghai on Tuesday.