A Republic of Korea (RoK) naval unit rescued a Democratic People's Republic of Korea (DPRK) ship from an imminent attack by pirates off Somalia early Monday, Seoul military officials said.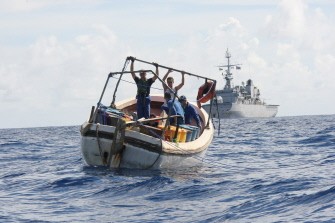 A boat seized from suspected Somali pirates is cleaned in the sea off the French warship Le Nivose on May 3, 2009. (AFP Photo)
"Our unit operating off Somalia today rescued a DPRK vessel from pirates," a spokesman for the Joint Chiefs of Staff told AFP.
"After detecting a distress signal from the DPRK vessel, our destroyer immediately sent a helicopter. The pirates came close to the DPRK ship but retreated as our helicopter approached."
The DPRK crew extended thanks to Seoul's naval force, the spokesman said.
The incident comes amid frosty relations between the governments in Seoul and Pyongyang.
It was the second time that the RoK unit has reported driving off pirates since it deployed last month off Somalia, where several Korean ships have been seized in the past.
On April 16, the Munmu the Great destroyer sent a helicopter to drive pirates away from a Danish-registered ship, the military said.
In November 2007 Pyongyang thanked its traditional enemy the United States for helping the crew of a DPRK ship which was attacked by pirates off Somalia.
Relations have soured considerably since then between Pyongyang and Seoul and Washington.
DPRK has walked out of nuclear disarmament talks and says it is restarting its atomic program with a view to conducting a second nuclear test.
Cross-border ties have worsened since a conservative government took office in Seoul in February 2008 and vowed to link major economic aid to progress in nuclear disarmament.