SHANGHAI (AFP) – Australian national Stern Hu and a Chinese fellow employee of Rio Tinto will plead guilty to bribe-taking at their trial in Shanghai, Dow Jones Newswires reported Monday, quoting a defence lawyer.
The news agency quoted lawyer Tao Wuping as saying Hu had been charged with accepting six million yuan (880,000 dollars), while fellow defendant Liu Caikui faced charges of taking three million yuan.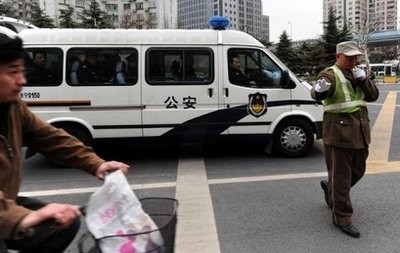 A police van full of policemen arrives at the Shanghai No.1 Intermediate People's Court in Shanghai on March 22, 2010 ahead of the trial. AFP photo
Both would plead guilty to accepting bribes while contesting the amounts involved, said Tao, who represents Liu.
The highly sensitive trial of four staff of the Anglo-Australian mining giant opened Monday, in a case that has strained ties with Canberra and stoked concerns about doing business in China.
AFP was not immediately able to confirm the report as the trial has been closed to all but a handful of state-run domestic media outlets, and defence lawyers could not be reached by phone.
The charges could bring jail terms of more than five years, Tao said.
Tao added prosecutors also charged the other two Chinese defendants, Ge Minqiang and Wang Yong, with accepting bribes but that they had not decided on their pleas, the report said.
The four defendants were arrested last July during contentious iron-ore contract negotiations which later collapsed, and after Rio snubbed a near 20-billion-dollar cash injection from state-run Chinese mining firm Chinalco.
The Shanghai No 1 Intermediate People's Court is expected to complete hearing the bribery charges Monday and conduct a separate closed-door hearing on allegations of commercial secrets theft Tuesday, Tao said.