OSLO, May 27, 2010 (AFP) - Rich countries will bring to about 4.0 billion US dollars the amount committed to fighting deforestation by 2012, 500 million more than pledged at the UN climate summit in Copenhagen, Norway said Thursday.
"We have reached around four billion dollars," Prime Minister Jens Stoltenberg of Norway, which is hosting an international climate and forest conference, told reporters.
The amount includes the 3.5 billion dollars pledged by the United States, Norway, Japan, Britain, France and Australia at Copenhagen's UN climate summit in December.

Stoltenberg said new pledges had been made by Germany -- which promised about 350 million euros -- and Denmark, among others.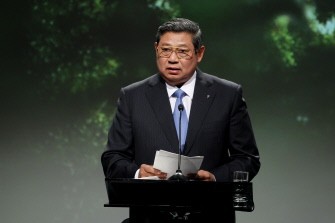 Indonesian President Susilo Bambang Yudhoyono addresses the Climate and Forest Conference in Oslo on May 27, 2010. Yudhoyono announced in Oslo on May 26 that his country would introduce a two-year moratorium on deforestation, which contributes to global warming. AFP PHOTO
According to the United Nation's Intergovernmental Panel on Climate Change, or IPCC, deforestation is responsible for 17 percent of global greenhouse gas emissions, which is more than all the world's modes of transport combined.
"Reducing deforestation and forest degradation can provide us with the largest, the fastest, the cheapest cuts in global emissions," Stoltenberg said.
The fight against deforestation could account for a third of all measures needed by 2020 to limit global warming to two degrees Celsius (3.6 degrees Fahrenheit), Norway said.
On a total forest area of four billion hectares, the world lost 13 million hectares of forest, not counting replanting, per year between 2000 and 2010 -- down from around 16 million in the 1990-2000 period, according to the Food and Agriculture Organisation of the United Nations (FAO).
But despite the slowing pace of deforestation, the forest area wiped out over the past decade was equivalent to the land area of Costa Rica, according to the FAO.