Greek authorities have offered up to one million euros to catch arsonists suspected of starting forest fires that have killed 63 people and threatened historic sites for a fourth day on Monday.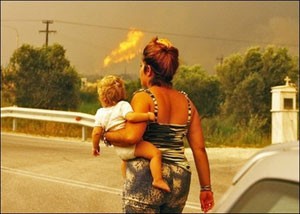 A woman carrying her child escapes the burning village of Platanos, August 26, 2007.
Greece was on a disaster footing as more than 30 fires burned in the south and west of the Peloponnese, the peninsula to the south of Athens which has been hit the hardest.
Firefighters were surrounding the site of Olympia, the birthplace of the Olympic Games, after succeeding Sunday in preventing the flames from devastating one of Greece's historic jewels.
At least 63 people have died in what authorities have called as "a national catastrophe without precedent".
The Greek government suspects the fires have been started deliberately.
Prime Minister Costas Karamanlis said on Saturday: "The fact that so many fires have broken out in so many areas at once is perhaps not a coincidence."
Karamanlis said the government would do everything in its power to find those responsible.
The public order ministry announced rewards of between 100,000 euros and a million euros (136,000 dollars and 1.36 million dollars) for information leading to the arrest of arsonists.
Speculation in the Greek media focused on the possible involvement of criminal gangs.
Construction is the second biggest industry after tourism in Greece and some people believe that developers are hoping to move in on the areas where forest has been destroyed, although the government has insisted that trees will be re-planted.