Three captured Islamic militants had been planning to launch bomb attacks in the Philippine capital in revenge for the killing of one of their commanders last month, the military said Thursday.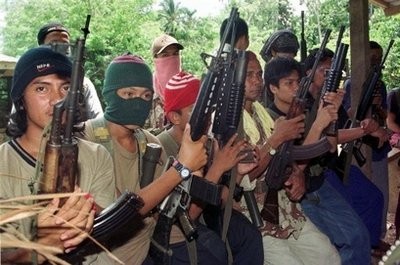 Abu Sayyaf gunmen display their weapons in their jungle camp in Jolo in 2000. (AFP Photo)
The arrest of the three Filipinos in a Manila suburb on Wednesday thwarted the plot by the Al-Qaeda-linked Abu Sayyaf group, military spokesman Colonel Romeo Brawner said.
"They were out to do some bombings in Metro Manila, but this was foiled by their arrest," Brawner told AFP.
"It (the plot) is part of their terrorist activities and also part of their retaliation after the death of Albader Parad."
Parad was a senior leader of the Abu Sayyaf who was killed along with five other militants in a clash with the military on the southern island of Jolo last month.
Philippine authorities hailed his death as a serious blow to the Abu Sayyaf, which has been blamed for the country's worst terrorists attacks, including the bombing of a ferry in Manila in 2004 that killed more than 100 people.
The Abu Sayyaf, which the military estimates has only a few hundred militants, is fighting for an independent Muslim state in the south of the mainly Roman Catholic Philippines.
Brawner said three arrested men were Abu Sayyaf members, but added they had been trained in bomb-making by the Jemaah Islamiyah, a militant group which has carried out dozens of bombings in neighbouring Indonesia over the past decade.
"They were trained by the Jemaah Islamiyah, foreign Jemaah Islamiyah members," Brawner told AFP.
He said that with the arrest of the three, the Abu Sayyaf did not have any more operatives in Manila at the moment.
"But this will not prevent them from sending more people," he said.
Brawner declined to reveal more details of the alleged bombing plot, only saying that the three men were still being interrogated by the military.
The military said shortly after the trio's arrest that they were in possession of detonating cord, blasting caps and hand grenades.
Both Abu Sayyaf and Jemaah Islamiyah have been linked by intelligence agencies to Osama bin Laden's Al-Qaeda network.
Philippine intelligence officials said last year that up to 30 Jemaah Islamiyah militants were known to operate in the southern Philippines alongside the Abu Sayyaf.
These include Indonesians Umar Patek and Dulmatin, who fled there after helping carry out the 2002 nightclub bombings in the Indonesian resort of Bali in which 202 people were killed.