A resigning junior foreign minister said Wednesday more helicopters were needed in Afghanistan, piling pressure on Prime Minister Gordon Brown amid a row over adequate resources for troops.
Lord Mark Malloch-Brown also told the Daily Telegraph the public had not been properly warned about the current offensive against Taliban militants in Afghanistan's Helmand province, before a recent rise in troop deaths.
Malloch-Brown, whose responsibilities as a Foreign Office minister include Afghanistan, announced this month he was resigning from the government for family and personal persons at the end of this week.
"We definitely don?t have enough helicopters. When you have these modern operations and insurgent strikes what you need, above all else, is mobility," Malloch-Brown said in an interview with the newspaper.
The comments are a fresh blow for Brown who has faced criticism from the Conservatives that his government is denying troops vital resources amid a surge in troop deaths in recent weeks.
British soldiers serving in Afghanistan suffered their blackest day earlier this month, with eight troops dying within 24 hours.
Since operations against the Taliban extremists began in October 2001, 187 British troops have been killed, more than the total number in Iraq.
Senior military figures including army chief General Richard Dannatt have called for more troops and equipment for the seven-year-old conflict, which was stepped up last month with the new push in Helmand.
Britain's recently-resigned defence secretary also added his voice last week to calls for more support for troops.
Chancellor of the Exchequer Alistair Darling insisted that the Treasury has not turned down requests from army commanders for more troops or equipment in Afghanistan.
"The army has said this is what we want in terms of troops and equipment and we have provided that and financed it," Darling said in an interview with left-wing weekly Tribune magazine.
Malloch-Brown, a former deputy secretary general of the UN, told the Daily Telegraph he took partial responsibility for not properly informing the public about the latest offensive.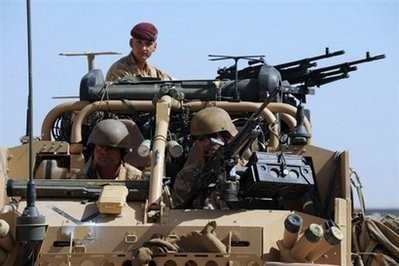 British soldiers of the NATO-led International Security Assistance Force (ISAF)
"We didn?t do a good job a month ago of warning the British public that we and the Americans were going on the offensive in Helmand. This is a new operation; the whole purpose is to win control. These deaths have happened ... after we chose to go on the offensive," he said.
The recent loss of life has pushed the Afghan conflict to the top of the political agenda ahead of a general election which must be held by June 2010.
Malloch-Brown refused to write off Brown's chances of leading the Labour Party to victory but added: "It looks incredibly bleak."
Asked if he believed Brown thought he could lose, he said: "No, I don?t. That?s one reason why, for all the criticism, he?s a remarkable leader. He has this almost Churchillian faith in his belief that he can persuade the British public he?s the one."