XINING, China (AFP) – Rescue workers were Thursday digging through rubble as they struggled to reach survivors of a quake in a remote region of northwest China which killed nearly 600 people and injured 10,000.
Thousands of people spent a night without shelter in freezing temperatures following the 6.9 magnitude quake which hit mountainous Yushu county in Qinghai province, destroying almost all the houses in the local capital Jiegu.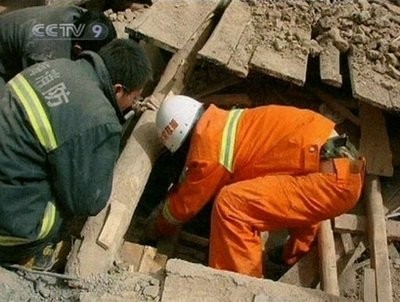 CCTV screengrab shows rescue workers as they search through the rubble following a strong earthquake in northwest China's Qinghai province. Rescue workers have been digging through rubble as they struggled to reach survivors of the quake in the remote region which which has killed nearly 600 people and injured 10,000.(AFP/CCTV)
The death toll was expected to rise further, with an unknown number of people including children buried under collapsed mud-and-wood houses and school buildings in the mainly Tibetan region.
"There are 10 people in my family and only four of us escaped. One of my relatives died. All the others are buried under the rubble," Samdrup Gyatso, 17, told the official Xinhua news agency after his two-storey home crumbled.
President Hu Jintao called for all-out efforts to save as many people as possible, with more than 5,000 rescuers, including 700 soldiers, rushing to the disaster zone.
As the international community began pledging help, the Chinese government said it would provide over 29 million dollars in aid.
But the rugged terrain and remoteness of the region, around 800 kilometres (500 miles) or at least 12 hours by road from the provincial capital Xining, were hampering efforts to bring in much-needed supplies.
The civil affairs ministry said it was to send 5,000 tents, 50,000 coats and 50,000 quilts. But the local government in Yushu -- the quake's epicentre -- reported a lack of tents, medicines and medical equipment.
"The injured are everywhere in the street, a lot of people are bleeding from head wounds," Xinhua quoted a local official named Zhuohuaxia as saying.
The quake, which hit Wednesday morning, and a series of strong aftershocks have damaged roads and triggered landslides, disrupting telecommunications and knocking out electricity supplies.
Rescue workers were forced to use their bare hands or sticks to dig through the rubble while awaiting the arrival of heavy equipment.
Survivors spent an uncomfortable night in the open with temperatures below freezing while rescue workers from outside the region faced difficulties coping with the thin air in the high-altitude area region which averages 4,000 metres (13,200 feet) above sea level.
About 10,000 people were injured when the quake hit, although police managed to pull more than 900 alive from ruined buildings, state media reports said.
Many more are believed buried and forecasters are predicting wind and sleet in the coming days, putting victims at risk of exposure, as well as the risk of more aftershocks.
Xinhua reported that 589 people had been confirmed dead, quoting officials coordinating the rescue.
Among the dead were at least 56 pupils and five teachers, Xinhua said, quoting local authorities, while another 40 students trapped in the debris had a slim chance of surviving.
"Some pupils ran out of dorms alive, and those who had not escaped in time were buried," said one teacher.
The scene was reminiscent of the huge quake in May 2008 in Sichuan province, where thousands of children died when their shoddily-constructed schools fell on them -- an issue that caused huge controversy in China.
Nearly 87,000 people were killed or missing in the 2008 disaster, the worst in China in more than three decades.
Exiled Tibetan spiritual leader the Dalai Lama offered prayers for those who died while Pope Benedict XVI called for "solidarity" with the victims and nations including France, Germany and Japan voiced shock and offered help.
The United States was "ready to assist" in the rescue effort, Secretary of State Hillary Clinton said, while the UN said its chief Ban Ki-moon "recognises the efforts being undertaken by the government of China to assess the situation and to assist those affected by the earthquake".
French President Nicolas Sarkozy sent a letter to Hu offering condolences and voicing confidence "in China's ability to overcome this latest ordeal".