SRINAGAR, India, Aug 7, 2010 (AFP) - Rescuers struggled to find survivors Saturday after devastating floods caused by freak rains killed at least 120 people in a remote part of Indian Kashmir popular for adventure sports.
Scores remained missing Saturday as heavy rainfall briefly disrupted rescue efforts and raised fears of more flooding, with several villages in the stark Himalayan border region still cut off.
"The death toll is likely to increase from 120 as more bodies are arriving," said a senior police official, asking not to be named as he was not authorised to speak to the media.
At least 400 people were reported injured in the floods, which struck without warning in the region which shares a sensitive border with China and has a large Indian military presence.
Thousands more were left homeless in the disaster, which came as India's neighbour Pakistan has been hit by the country's worst flooding in living memory, affecting up to 15 million people.
Shops in a newly built market in Leh, the main town in the majority Buddhist Ladakh area, were transformed into temporary mortuaries where rescuers laid out bodies.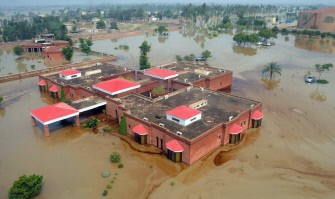 A Lal Pir Thermal Power building is seen surrounded by floodwaters in Lal Pir, Pakistan on August 7, 2010. AFP
India's military was helping in the rescue efforts after floodwaters -- triggered by a cloudburst in the normally arid region -- swamped Leh and surrounding villages in the early hours of Friday as people slept.
Among those killed by the flash floods and mudslides were labourers from various Indian states.
"Our immediate priority is to look for survivors," said state tourism minister Nawang Rigzin Jora, who was directing rescue efforts in Leh.
Rescuers waded in knee-deep mud to reach victims trapped in collapsed buildings in Leh, which lies 3,500 metres (11,500 feet) above sea level.
A powerful six-foot (two-metre) wave of water, mud and sand left the area looking "like it was bombed," R.S. Raina, who works for state broadcaster Doordarshan in Leh, told AFP. "I've never seen such devastation," Raina said.
The mountainous area in the southeastern part of Muslim-majority Kashmir is a favourite destination for foreign adventure tourists interested in trekking and river rafting.
Farooq Shah, the region's director of tourism, said only one foreign tourist was known to have been injured and was out of danger. But he said the situation would become clearer in a day or two as some tourists had travelled to remote villages now cut off by the devastation.
Up to 3,000 tourists were staying in Leh but none of the major hotels suffered serious damage, Leh tourism official Nissar Hussain said. Many tourists were now assisting the relief operations.
Air Force flights resumed to Leh airport Saturday, bringing vital relief supplies, after workers cleared runways of mud and debris.
But the floodwaters had washed away parts of the main highway to the town, making road transport difficult.
"The flights have brought in relief material, including medicines," tourism official Nissar Hussain told AFP. Private airlines had also resumed operations, allowing some foreign tourists to leave.
Some 25 soldiers were missing after the floods washed away several army posts, said army spokesman Sitanshu Kar.
Civilian doctors were operating in the main army hospital as "the Leh Civil Hospital has been filled with mud," Kar said.
Rivers in the area had already been running high due to heavy runoff from melting winter snows, exacerbating the disaster, officials said.