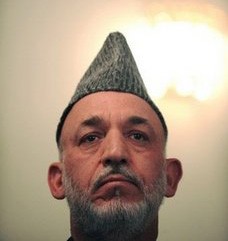 Afghan President Hamid Karzai at a press conference at the presidential palace in Kabul on October 20 (AFP photo)
KABUL (AFP) – Afghan President Hamid Karzai reluctantly geared up on Wednesday for a run-off election on November 7 after the final count from August's fraud-tainted poll saw him fall fractionally short of an outright win.
Karzai, who had been convinced he passed the 50 percent threshold in the first round, had to agree Tuesday to a second round after a watchdog ruled up to a quarter of the votes cast on August 20 were suspect and therefore invalid.
The president confirmed he would take part in the run-off, calling it a "step forward for democracy," flanked by senior US senator John Kerry and top European diplomats in a sign of the international pressure that had been applied.
And in a show of his unhappiness at the outcome, Karzai defended the now widely discredited first round, saying it was "conducted by Afghans in a national and patriotic spirit." Profile: Hamid Karzai
"Many women, children and men lost lives for this important right and army, police and security forces suffered to make such an historic moment possible," he told a news conference.
His chief rival Abdullah Abdullah, Afghanistan's foreign minister until he was axed by Karzai three years ago, should discover his official share of the vote on Wednesday from the electoral commission. Profile: Abdullah Abdullah
Although a preliminary tally gave him around 28 percent, his final share is expected to be nearer 32 percent. Officials have already announced that Karzai won 49.67 percent.
Abdullah, speaking to the BBC, said the run-off decision would boost democracy in the nation, adding: "The process is moving now forward rather than being stuck."
Led by the United States, Afghanistan's foreign allies welcomed the move as an opportunity to lift the country out of political chaos and help stabilise a nation blighted by an escalating Taliban insurgency. Related article: Western leaders hail 'statesman' Karzai
US President Barack Obama thanked the Afghan leaders for agreeing to the run-off, speaking personally to Karzai and Abdullah to praise them for ending electoral limbo.
But UN chief Ban Ki-moon struck a note of caution, saying the run-off presented "huge challenges."
And as if to underline the continuing threat in the insurgency-wracked nation, the Taliban dismissed the election process as a "laughing stock."
"Only a few people out of about 30 million participated, by means of bribes, fraud, theft and force as well. As for the majority as a whole, they declared openly their boycott of it and their rejection of it," the Taliban said in a statement, according to a translation by the SITE Intelligence Group.
The statement was dated October 20 but made no explicit mention of the second round.
The announcement of a run-off came a day after an inquiry by a UN-backed watchdog confirmed staggering levels of fraud in the August 20 vote, declaring more than one million ballots suspect -- a quarter of the total cast.
Karzai initially dismissed allegations of widespread fraud as fabricated, convinced he had a clear victory, but international pressure has been mounting.
There have been growing signs US patience with Karzai is wearing thin, as Obama wrestles with a decision on whether to deploy thousands more troops to Afghanistan.
Senator Kerry, the powerful chairman of the Senate's foreign relations committee, has said it would be "entirely irresponsible" for Obama to commit more troops when the identity of the next Afghan government is still unclear. Related article: US may send troops despite vote debacle
A White House spokesman said that Obama had yet to determine whether to make a decision on troop reinforcements before the run-off.
Afghanistan had to hold a second round rapidly, before harsh winter sets in making much of the country inaccessible. But observers predicted weak turnout following a first round with a participation rate of only 38.7 percent.
The announcement seemed to nix suggestions that Karzai could join forces with Abdullah, his former foreign minister, in a government of national unity.