US President Barack Obama said Friday the "hole" left by the worst recession in decades was "huge" and admitted the recovery had been "painfully slow," but vowed his policies were working.
Obama appeared at a White House news conference designed to showcase his recovery plans and shore up his political standing ahead of November's mid-term elections in which his Democrats face a Republican wave.
"The hole the recession left was huge and progress has been painfully slow," Obama said, capping a week in which he has launched an energetic campaign ahead of the congressional polls.
"These proposals are meant to accelerate job growth in short term," he said, touting plans to revive small business and tackle the 9.6 percent unemployment rate.
"The American people did not send us here to think about our jobs, they sent us here to think about theirs," Obama said, slamming Republicans for blocking an existing plan he formulated to promote lending to small businesses.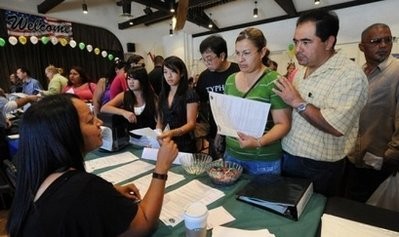 People attend a job fair in El Monte outside Los Angeles
Obama opened the encounter with journalists in the ornate East Room of the White House by naming economic aide Austan Goolsbee to serve as the chairman of his Council of Economic Advisors, to replace Christina Romer who stepped down last week.
Obama admitted in a television interview Wednesday that his party would not do well in the election if it became a judgment on the state of the economy in the wake of the worst financial meltdown in decades.
"If the election is a referendum on are people satisfied about the economy as it currently is, then we're not going to do well," Obama told ABC News.
"I think everybody feels like this economy needs to do better than it's been doing," Obama said.
"My challenge, and the challenge of every Democratic candidate who's out there is just making sure the people understand there's a choice here."
A Quinnipiac University poll published on Thursday made uncomfortable reading for the administration, with voters disapproving of his handling of the economy -- the major election issue -- by 56 to 39 percent.
Goolsbee is currently serving as chief economist on the president's Economic Recovery Advisory Board, which Obama set up to provide outside and independent advice as he navigates the economic recovery.