BENGHAZI, Libya, Aug 22, 2011 (AFP) - Senior Libyan rebel figure Mahmud Jibril said early Monday there are still pockets of resistance in Tripoli from forces loyal to strongman Moamer Kadhafi, after insurgents surged into the capital.
"I warn you, there are still pockets of resistance in and around Tripoli," Jibril said in a speech on rebel television Al-Ahrar.
"You have to be aware that some pockets are coming from the east and you have to be cautious. The fight is not over yet. God willing, in few hours our victory will be complete."
He called on police and security forces not to leave their posts and to keep doing their jobs, staying alert to protect the people and their property.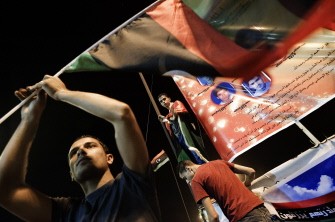 AFP- Libyans listen to the arrest of Kadhafi's son Saif al-islam and the partial fall of Tripoli on August 21, 2011 in Benghazi, Libya
And as it looked as if Kadhafi's rule was now to be measured in hours and not days, and after one of his son's was captured, Jibril urged rebels to act with magnanimity toward the vanquished.
"The world is watching us," he added. "Do not avenge yourselves."
"Today, as we celebrate victory, I appeal to your conscience and to your responsibility: don't get carried away. Do not avenge yourselves, don't pillage, don't insult foreigners and respect the prisoners."
He took particular pains to refer to those close to Kadhafi who might be captured, including his sons and relatives.
"Prove that we are up the responsibility to protect them and their lives," he said.
Saying everyone was "in the same boat," he added: "I ask you to achieve democracy and to build the new Libya, remembering all the people who give their lives in this war."