The rapidly expanding field of 2008 presidential contenders has set off a frenzied battle for all-important campaign donations, as the money-driven US election contest gathers steam.
The 2004 presidential election broke spending records, but the current campaign is expected to eclipse that one, according to federal election officials.
"The 2008 race will be the longest and most expensive election in American history," former Federal Election Commission chairman Michael Toner told reporters recently.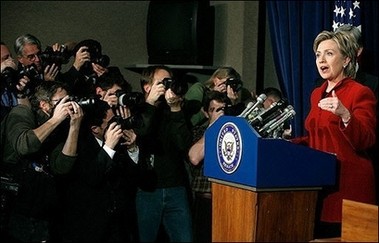 One of the top-tier presidential candidates , Senator Hillary Clinton.
Toner said campaign spending would likely approach the one billion dollar mark in 2008, despite various attempts to clamp down on expenditures.
US election authorities say that and Bill Richardson and Republican Sam Brownback -- all of whom entered the race just this past week -- likely will need to raise a daunting 100 million dollars by year's end to launch credible campaigns.
The quest for money has driven campaign decisions more than ever before. Most serious candidates kick off their campaigns by announcing the formation of a presidential exploratory committee, allowing them to get a jump start on fundraising.
Senator Hillary Clinton, who entered the race for the Democratic nomination Saturday, is a prodigious fundraiser with a proven track record whose name recognition is expected to help enormously in her quest for funds.
Clinton faced only token opposition during her Senate reelection campaign, and has some 14 million dollars already in the bank which she can apply directly to her presidential campaign.
Still, she will need many times that to pay a campaign staff, travel, national television ads and other expenses. The timing of her decision to join the race was believed to have been influenced in part by a desire not to lose ground to Obama, a top rival for the Democratic presidential nomination and campaign funds.
Obama, as one of his very first tasks after his announcement this week, made conference calls to various deep-pocketed donors for financial support.
He already has attracted an influential group of financial backers. Past supporters to his political action committee include billionaire investor Warren Buffett and Hollywood moguls Jeffrey Katzenberg, David Geffen and Steven Spielberg.
Former New York mayor and 2008 Republican presidential hopeful Rudolph Giuliani inadvertently revealed just how all-encompassing the quest for election funds can be, when detailed plans of his White House strategy were revealed after being lost in a New York hotel.
Giuliani's election dossier laid out an ambitious fundraising schedule, with plans to raise 100-125 million dollars this year at 250 different gatherings with wealthy donors across the United States.
Meanwhile, the New York Times reported Sunday that billionaire philanthropist George Soros -- who has given money to both Clinton's and Obama's senatorial campaigns -- sent the maximum donation of 2,100 dollars to the Illinois senator -- which may be a sign that he is casting his lot with Obama over Clinton.
"Soros believes that Senator Obama brings a new energy to the political system and has the potential to be a transformational leader," Michael Vachon, a Soros spokesman, told the New York Times.
The quest for campaign funds also drove the 2004 campaigns of candidates President George W. Bush and Democratic nominee John Kerry, who decided to forego public matching funds during the nominating phase of the campaign because that money came with a 45 million dollar spending limit.
During his 2004 presidential campaign, Bush divided his top fundraisers into "Rangers," who raised at least 200,000 dollars each, and "Pioneers," who raised 100,000 dollars.
Bush went on to raise 274.7 million dollars while Kerry raised 253 million dollars.