A Qatari diplomat who sparked a national security scare by joking about setting fire to his shoe on a flight to Denver was on his way to visit an imprisoned Al-Qaeda conspirator, officials said.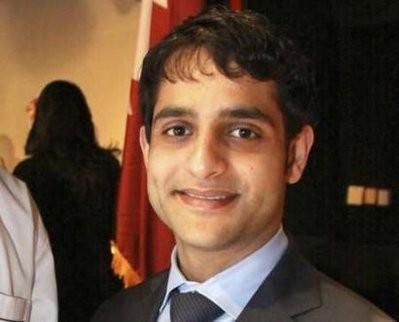 Qatari diplomat Mohammed Yacoub Al Madadi from the Embassy of the State of Qatar is pictured in Washington, DC, in this recent photograph taken on March, 25, 2010.
Mohammed al-Modadi, 27, the third secretary and vice consul of the Qatari embassy in Washington, was being released without charge after the incident Wednesday on a United Airlines flight from Washington, DC to Denver.
In a post-script to the bizarre incident, a State Department spokesman said Modadi was traveling to Denver to make a consular visit to a Qatari national being held in a Colorado prison.
US media reports identified the prisoner as Ali al-Marri, who pleaded guilty to conspiracy last year in connection with the September 11 attacks on the United States.
Modadi set off alarm bells during the flight to Denver after sneaking a smoke in the bathroom and then, when confronted, joking that he was lighting his shoes.
His comments raised fears of a repeat of the 2001 "shoe bomber" incident in which British national Richard Reid tried to blow up an airliner using explosives hidden in his shoe.
An air marshal wrestled the diplomat to the floor, the pilot declared an emergency, two F-16 fighters were scrambled and intercepted the airliner, and top White House officials briefed President Barack Obama, who was en route to Prague to sign a nuclear weapons reduction treaty with Russia.
Later officials said there were no explosives on the plane and it was all a misunderstanding.
"It's expected that he's going to be turned over today to Qatari officials. I don't know if he's still with the FBI or if he's been turned over to the Qatari officials yet," a law enforcement official told AFP Thursday.
The source, who asked not to be named, said that even though smoking in airplane restrooms is a federal crime under US law, the diplomat is not likely to be prosecuted.
"He has diplomatic immunity. If he was a US citizen, that's a violation, but he does have diplomatic immunity," the official said. "Only a foreign government can lift the immunity."
The State Department said Thursday it expected a quick diplomatic solution to the affair, adding US authorities had been in close contact with Qatar's ambassador.
"We are satisfied with the seriousness by which they take what has occurred. That's why we have confidence that this will be resolved very quickly," spokesman Philip Crowley told reporters.
A US official, speaking on condition of anonymity, hinted Modadi would soon be sent home. "His ability to function effectively has been significantly compromised," the official said.
Qatar's ambassador to Washington Ali Bin Fajad al-Hajari said in a statement the diplomat had been traveling to Denver on official embassy business.
"He was certainly not engaged in any threatening activity," the ambassador said. "The facts will reveal that this was a mistake, and we urge all concerned parties to avoid reckless judgments or speculation."
The reaction to Modadi's actions appeared to have been prompted by fears of a possible repeat of the foiled Christmas Day bombing, when a Nigerian passenger tried to blow up a plane by igniting an explosive secreted in his underwear.
Homeland Security Secretary Janet Napolitano praised the swift actions of the air marshals.
"We always treat security-related incidents seriously until verified otherwise, and thankfully this incident posed no actual security threat," she said.