SYDNEY, July 22, 2011 (AFP) - Pilots on international routes for Australian airline Qantas on Friday began their first industrial action in 45 years with unauthorised in-flight announcements telling passengers about their dispute.
Some 1,700 long-haul pilots voted earlier this month to take their first action since 1966 following stalled contract negotiations, holding out the possibility of a two-day strike as a last resort.
Passengers on flights Friday were to hear pilots urging them to back their campaign to keep the airline Australian.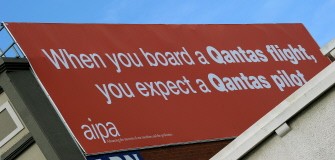 AFP - A billboard featuring erected as part of an Australian and International Pilots Association awareness building effort is displayed near Sydney on July 20, 2011
"We are proud of our profession and our airline and trust you will support us in keeping Qantas pilots in Qantas aircraft and ensuring our great iconic airline remains uniquely Australian," the message says.
Pilots have been negotiating new wages and conditions with Qantas for months and want a new clause in their contracts to stop the airline from potentially outsourcing pilots to cheaper bases in Asia.
"The aim of the announcement is not to argue any point to passengers, it is to gently remind them that Qantas pilots are currently fighting to stay in the cockpit of Qantas flights," said association vice president Richard Woodward.
"Quite simply, Qantas passengers do not want to see their Australian Qantas pilots replaced on Qantas flights with outsourced alternatives working to Asian conditions and standards.
"We hope that this action spreads awareness of what management is up to and puts pressure on them to reconsider."
The union has also launched billboards in Sydney, Melbourne and Brisbane, declaring: "When you board a Qantas flight, you expect a Qantas pilot."
Qantas has rejected the claims about outsourcing and said it was disappointed passengers would be disturbed.
"Passengers want pilots to provide updates over the PA system on the arrival time, the weather at their destination and important safety information," spokesman Luke Enright said.
"They don't want to hear scripted complaints from the pilots' union about a dispute with management."
While admitting that its international business is unprofitable and needs to be restructured, Qantas said the pilot demands would drive up airfares, cost jobs and make Qantas unprofitable.
Qantas is also in dispute with its engineers in a protracted dispute about wages and conditions.