SYDNEY, Nov 1, 2011 (AFP) - Qantas services returned to normal Tuesday after days of chaos, as the airline began the difficult task of winning back the hearts and minds of passengers and mollifying a furious government.
The carrier said in a statement that all disrupted passengers had been accommodated on flights, with the carrier operating more than 348 domestic and 105 international services since retaking to the skies.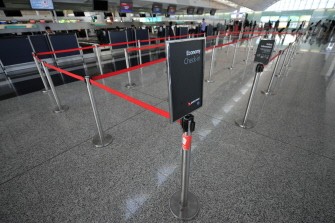 AFP - Deserted Qantas check-in counters at Hong Kong international Airport on November 1, 2011.
"Qantas sincerely regrets the impact on customers of industrial action over recent months and looks forward to a rapid recovery and period of stability," the statement added.
Qantas resumed flying late Monday after a bitter industrial dispute sparked an extraordinary 46-hour shutdown that stranded 70,000 passengers in 22 cities worldwide and threatened to damage Australia's economy.
The shock grounding of the entire fleet, announced Saturday by Qantas chief Alan Joyce, dramatically escalated a long-running feud with airline unions who oppose an Asia-focused restructuring plan.
It only ended when the government's industrial tribunal early Monday ordered an end to the grounding, and months of strikes and other industrial action by baggage handlers, engineers and pilots.
Fair Work Australia gave the airline and unions 21 days to settle their dispute over wages and conditions or undergo forced arbitration that would see a decision imposed on them.
Transport Minister Anthony Albanese demanded both sides "act in a mature way" to fix the damaging standoff, reiterating the government's gripe that it was given no prior notice of the grounding.
Prime Minister Julia Gillard has accused the airline of "extremist behaviour" in its actions and made clear Tuesday she was still furious.
"I do not believe that this extreme action should have been taken," she said.
"Qantas on Friday was talking about continuing to negotiate this dispute. On Saturday it made the decision to strand tens of thousands of passengers around Australia and around the world.
"It needs to take some responsibility publicly for that decision."
Joyce has said his actions had widespread support from the Australian business community but Assistant Treasurer Bill Shorten disagreed.
"I don't think every company in Australia is happy with what happened," he said, but added: "I don't believe that what we've seen Qantas do will be a major precedent for some sort of new wave of radical employer militancy."
Qantas now has the huge task of winning back the trust of passengers and rebuilding its brand.
The airline is expected to launch a multi-million dollar public relations campaign to limit the fallout, with reports that it could cut prices, offer special promotional deals and double frequent flyer points earned.
But it will not be easy, with anger at airports and on social media sites still running high, and many of those caught in the chaos vowing to never again fly Qantas.
Despite the backlash, Joyce said Monday he considered the Qantas brand "amazingly resilient" and played down fears the 90-year-old flag carrier had been irreparably damaged as it heads towards the busy Christmas period.
"We are deeply sorry for the inconvenience and stress our customers have faced over the past days and months," said a statement on the Qantas website Tuesday as the company set about rebuilding its reputation.
"Industrial action is now over, you can again book Qantas flights with confidence," it said.
After rallying 4.4 percent on Monday, Qantas's share price added another 1.1 percent Tuesday, bucking the trend in a broadly negative market.