The organizers of the 2018 PyeongChang Winter Games are ready to overcome a recent nation-rocking corruption scandal by successfully hosting Olympic test events, a high-ranking official here said Thursday, source from the Yonhap.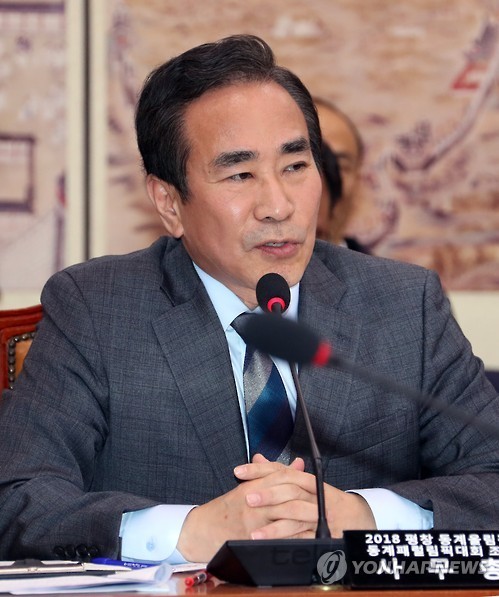 In this file photo taken on Nov. 10, 2016, Yeo Hyung-koo, secretary general of PyeongChang's Olympic organizing committee, speaks during a meeting at the National Assembly in Seoul. (Yonhap)
Yeo Hyung-koo, secretary general of PyeongChang's Olympic organizing committee, said that the organizers are set to prove that preparations for the first Winter Games in South Korea are on course by staging the season's first test event this week.
The FIS Snowboard World Cup will showcase a big air event at the Alpensia Ski Jumping Centre in PyeongChang, which lies some 180 kilometers east of Seoul in Gangwon Province, from Friday to Saturday. It kicks off a run of more than 20 tests events ahead of the Winter Olympics.
"We only have 442 days left to the PyeongChang Games opening," Yeo said. "We don't have much time, but because of external issues like the Choi Soon-sil scandal, we are busy refuting suspicions against us."
The big air snowboard test event is being held amid concerns that the preparation of the PyeongChang Games could have been tainted by the recent influence-peddling scandal surrounding President Park Geun-hye's confidante.
There have been suspicions that Choi Soon-sil and Choi's niece Chang Si-ho pocketed profits in various deals related to the country's Olympic preparation.
"I don't know what they (Choi and Chang) tried to do by targeting the PyeongChang Games," said Yeo, formerly the second vice minister at the Ministry of Land, Infrastructure and Transport. "But I believe none of their plans would have materialized."
Yeo, who joined the organizing committee last November, said because of the recent suspicions, the organizers are having a tough time doing their work.
"There was even a case in which sponsors postponed contract signings," he said. "It also caused our staff to feel unrest."
However, Yeo said the organizers will brush off such difficulties with the successful hosting of test events.
"This is a good opportunity to overcome such difficulties," he said. "We can show others that the Olympic preparations have no problem."
Yeo also asked the public to support their preparations of the Winter Games.
"We hope people pack the venues," he said. "The best driving force to create an Olympic boom is people's participation."