Russian Prime Minister Vladimir Putin was to seal a series of multi-billion dollar arms deals Friday during a visit to India aimed at boosting ties with Moscow's old Cold War ally.
According to Russian officials, Putin will sign more than a dozen pacts amounting to 10 billion dollars, including an accord to resolve the troubled sale of a refitted Soviet-era aircraft carrier, the Admiral Gorshkov.
Other deals include a contract to sell India 29 MiG fighter jets and an agreement to install additional nuclear power units in the southern Indian state of Tamil Nadu, where it is already building two reactors.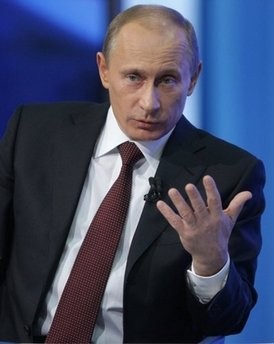 Russian Prime Minister Vladimir Putin
The sale of the Admiral Gorshkov has been marred by a series of price disputes and delayed deliveries, fuelling concerns in Moscow that India could be tempted to end its dependence on Russian military equipment.
Putin's foreign policy aide Yury Ushakov said the new accord would "suit both sides" and help put the dispute behind them.
"We have an enormous interest in India," he told reporters ahead of Putin's arrival in New Delhi.
Russia supplies 70 percent of India's military hardware but in recent years New Delhi has looked to other military suppliers including Israel and the United States.
The strong ties between Moscow and New Delhi date back to the 1950s after the death of Stalin. But India has in recent years also taken care to balance this friendship by fostering closer relations with Washington.
India's foreign ministry spokesman Vishnu Prakash described Russia as a "valued partner and time-tested friend."
"We have a similar outlook on a whole host of regional and international issues," Prakash said.
Together with Brazil and China, Russia and India are part of the so-called BRIC grouping of major developing economies seeking to promote a multipolar world economy not dominated by the United States.
At just over 7.5 billion dollars in 2009, trade turnover is minuscule and the two countries will aim to increase it to 20 billion dollars by 2015.
According to Indian officials, energy is emerging as a new focus of cooperation between oil and gas-rich Russia and energy-starved India, which is always on the lookout for new fuel sources to power its growing economy.
Indian foreign ministry official Ajay Bisaria noted that New Delhi had invested 2.8 billion dollars in an oil field on Sakhalin island off Russia's east coast and was in talks with energy firms Rosneft and Gazprom for more blocks in north Russia.
"India has had an energy strategy of investing in equity in that region and this continues," Bisaria said.
Russia is expected to begin construction soon of another nuclear power facility in the eastern India state of West Bengal.
Putin, who last visited India as Russian president in 2007, is scheduled to meet his Indian counterpart Manmohan Singh and President Pratibha Patil.