Demonstrators in mock prison garb rallied here and around the globe calling for the US prison in Guantanamo, Cuba, to be closed, five years after its first "war on terror" detainee arrived.
Around 395 people are being held at the controversial US naval base in Guantanamo Bay, most without legal safeguards such as access to courts or legal counsel.
UN chief Ban Ki-moon joined in the world refrain, saying "like my predecessor (Kofi Annan), I believe the prison should be closed."
His comments came as the London-based human rights group Amnesty International appealed to world powers to press the United States to shut down the prison at the US enclave at Guantanamo Bay, Cuba.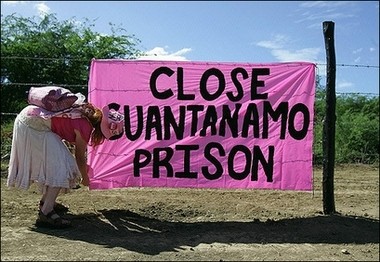 A human rights activist hangs a banner on the wire fence demarcating the Guantanamo Bay US naval base in Cuba.
"The US government must end this travesty of justice. Equally, it is not enough for world leaders to express concern about Guantanamo and carry on business as usual with the USA," said Amnesty's secretary general, Irene Kahn.
Outside the base, a former inmate, relatives of detainees and other activists headed to its gates to demand the closure of the facility which received its first inmates on January 11, 2002.
The group staged a symbolic kilometer-long march to the barrier that separates the camp from the rest of Cuba.
Wearing a scarf with the message "Don't give up" in Arabic, Zohra Zewawi, the mother of prisoner Omar Deghayes, broke down as she put her hand on the gate leading to the out-of-sight military base.
"I am so glad to be close to my son. ... I am also very sad because I cannot see my son," she told AFP.
In London, some 200 people demonstrated in front of the US embassy against the camp where a number of British nationals were held -- some in solitary confinement -- only to be released without charge after months of harsh treatment.
Amnesty organized a mock-up of life at Guantanamo with demonstrators playing the roles of guards and detainees wearing orange overalls and white masks over their mouths.
"Scum, face down!" the "guards" shouted before an audience of protesters and journalists.
Some 300 people dressed in prisoners' orange jumpsuits held a similar demonstration in the US capital. A lawyer read a letter from Guantanamo detainee Jumah al-Dossari summing up his despair: "I would rather die than stay here forever, and I've tried to commit suicide many times. The purpose of Guantanamo is to destroy people, and I've been destroyed."
Outside the State Supreme Court building in New York City, 100 orange-clad protesters had the same message. "We are here to tell you this is wrong," said Vincent Warren, director of the Center for Constitutional Rights.
The US government established the Guantanamo facility in the months after the September 11, 2001 attacks to interrogate the prisoners rounded up in countries such as Afghanistan as part of the US war on terror.
In all, nearly 800 prisoners have passed through the camp since it opened. The US government says about 395 detainees remain at Guantanamo. Washington hopes to prosecute 60 to 80 in military tribunals, while another 86 could soon be repatriated. The fate of the rest remains unclear.
A 10-year-old boy personally delivered a letter to British Prime Minister Tony Blair asking for help in securing his father's release from the camp. "I want to know if Mr Blair cares after four years," Anas al-Banna wrote.
Russian President Vladimir Putin criticized the camp as "a sad situation" in a speech on human rights in Moscow.
Prisoners "are held without trial or investigation. People who are released from there and enter national justice systems are found innocent. It's a sad situation," Putin said.
In Madrid, a march organized by Amnesty International delivered 150,000 signatures demanding that Guantanamo be shut down. Activists were also rallying in Oslo, Copenhagen and other European capitals to press for its closure.
In Prague, a handful of Amnesty members released 430 orange balloons in Wenceslas Square to represent the prisoners still being held.
"These people are usually referred to as terrorists, but they have never had a fair trial, and the presumption of 'innocent before proven guilty' does not seem to apply here," spokeswoman Evan Dobrovona told AFP.
Although located on a US base, the camp does not fall under the jurisdiction of US courts, a fact that has allowed President George W. Bush's administration to interrogate and hold suspects there indefinitely.