NEW YORK, July 10, 2011 (AFP) - A New York state senator and a coalition of women's rights groups and community leaders gathered Sunday to defend the alleged victim of former IMF chief Dominique Strauss-Kahn and demand the prosecution continue the sexual assault case.
"We are here to ask the District Attorney to do his job. We ask (DA) Vance to let the victim have her day in court," said New York Democratic Senator Bill Perkins at a news conference in Harlem.
Accompanied by representatives from the African American, Muslim and Latino communities in New York, including Miss Guinea USA, Perkins criticized the prosecution for reports they might abandon the case because of the credibility of the Sofitel employee who brought charges against Strauss-Kahn in May.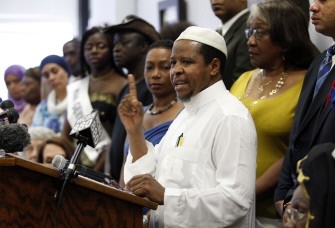 AFP - Imam Dr. Abdoulaye Balde delivers remarks in regards to the case against former IMF chief Dominique Strauss-Kahn as he and other community leaders call on the District Attorney to allow the victim in the case to have her day in court at a press conference in the Harlem section of New York on July 10, 2011.
"A dismissal would discourage victims from coming forward for fear that they themselves would be put on trial," Perkins said, adding that Strauss-Kahn's credibility should also be in question following charges of attempted rape in France.
"There appears to be enough compelling physical evidence in support of the victim's allegations for the District Attorney's office to move forward with the pursuit of this case," he said.
Also present at the press conference was a member of the New York State Assembly Eric Stevenson. He said the idea that the prosecutor decides not to pursue a complaint "is a bad sign of the American judicial system."
"She represents us," said Virginia Montague, president of the National Coalition of 100 Black Women. "We expect the district attorney to stand firm," she added.
Zenaida Mendez, founder of the National Dominican Women's Caucus, declared that, "the world is watching what the United States does with this case."
Released under oath in a surprise move over a week ago after spending several days in jail and then weeks under house arrest, Strauss-Kahn is accused of seven charges, including attempted rape, punishable by ten years in prison, for which he has pleaded not guilty.
The case suffered a major blow when prosecutors said the maid lied in sworn testimony in the case, and gave false information on tax and asylum application forms, including about an alleged gang rape in Guinea.
But in an open letter to Manhattan District Attorney Vance on July 6 and distributed during the press conference, Senator Perkins recalled that "none of what is mentioned in the media says this woman was not raped nor does it justify that the courts and the judicial system abandon her."
Perkins said he has not been in touch with the alleged victim.