The 42nd ASEAN Economic Ministers' Meeting and the 4th ASEAN Economic Community Council's Meeting opened in Da Nang City on August 25, focusing on the theme of dynamic and sustainable growth. At the event, Vietnamese Prime Minister Nguyen Tan Dung suggested five major issues in ASEAN's economic development.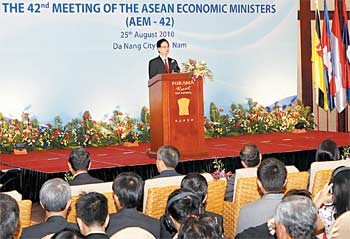 PM Nguyen Tan Dung speaks to open the 42nd ASEAN Economic Ministers' Meeting and the 4th ASEAN Economic Community Council's Meeting opened in Da Nang City on August 25 (Photo: SGGP) 
In a speech to open these events, PM Dung said the year 2010 is a staple year of the process of realizing the ASEAN Economic Community by 2015, which is rested on three pillars including the Political-Security Community, the Economic Community and the Socio-Cultural Community.

Of the three pillars, the ASEAN Economic Community (AEC) has achieved some significance progresses.  Under the AEC, a lot of integration commitments and economic cooperation programs have been implemented. In addition, a common market and a united economic space have begun to take shape, owning to the coordination and adjustment of the trade rules and macroeconomic policies of ASEAN countries, the PM said.

The AEC is a clear manifestation of ASEAN's strong and consistent commitments to regional economic integration, Mr. Dung said.

He attributed the ASEAN's growth in the past several years to the great efforts of ASEAN countries in boosting their economic cooperation. Now with the efforts in in developing a Master Plan on ASEAN Connectivity, ASEAN countries will further boost the connectivity between their traffic infrastructure, telecommunications, information technology, institutions, and citizens.

However, because the world and regional economies always contains contradictory and complicated elements, ASEAN needs to reach a high degree of unanimity about adopting a common development process for the region, he said.

To this end, he pointed out five key issues that need to be considered in boosting the ASEAN economic development.

First, the economic ministers should adopt practical and innovative solutions to implement the ASEAN Economic Community (AEC) Blueprint strictly and effectively by 2015.

Second, the ASEAN countries should pursue balanced and sustainable development policies, in which the relation between economic growth and other important elements, including macro-economic stability, social development, and response to the climate change and natural disasters and epidemics, must be ensured.

Third, the bloc needs to improve and strengthen its framework for economic co-operation with its partners, in which ASEAN countries play a central role.

Fourth, it is necessary for ASEAN countries to take practical and vigorous measures to accelerate the process of narrowing the development gap among them.

Last, all country members should mobilize the participation of the entire community, especially ASEAN businesses and citizens, to boost the sustainable development of the AEC.