MADRID, Nov 9, 2011 (AFP) - For the past three months Maria Jose del Coto Maeso has lived in an empty store with no shower or cooking facilities with her disabled son and unemployed daughter.
A neighbour has allowed her to occupy the store since police in July evicted her from the apartment she had lived in on the same street for 31 years for failing to make her mortgage payments.
"At least we have a place to go. There are people who are on the streets," said Maeso who wore purple pyjamas as she stood surrounded by clothes hung up to dry in a kitchen area she set up at the front of the store.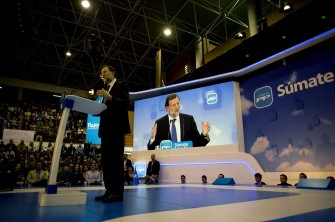 AFP - Leader of the the Spanish conservative Popular Party opposition party Mariano Rajoy waves speaks during a campaign meeting in Malaga on November 8, 2011, ahead of November 20 general elections.
The 30 square metre (323 square foot) store has a toilet but no running hot water. To take a shower Maeso, 53, heats water on a hot plate which she also uses to cook basic food items.
Every night the family lays out three mattresses on the floor of the living room area to sleep. Cardboard boxes with the family's belongings are stacked floor to ceiling alongside the walls.
"We live how we can. I can't say we live very well, but we do what we can to survive. I would love to not be here tomorrow, that everything could be fixed, but I am not sure," said Maeso.
With an income of around 1,000 euros ($1,400) a month -- 700 euros in government assistance and the rest from child support payments -- she is one of a growing number of Spaniards feeling the pain of a biting economic crisis that is dominating November 20 general elections.
Maeso began to struggle to pay the roughly 200,000 euros still owed to savings bank Caja Mediterraneo after the monthly mortgage payment ballooned to 1,300 euros from 600 euros.
She is unable to work as she has to give round-the-clock care to her 26-year-old son Abel, who was left severely handicapped after he suffered an accident as a toddler.
Her 25-year-old daughter, also named Maria Jose, has not been able to find stable employment since completing a history degree two years ago.
Maeso began a master's programme in October but said she would go abroad if she found a job.
"Right now Spain does not offer anything," she said as she sat on the sofa surrounded by the family's two cats and dog.
The plight of Maeso's family highlights how Spain's prolonged economic downturn and sky-high unemployment rate of 21.52 percent -- the highest rate in the industrialised world -- has plunged millions into poverty.
The proportion of Spaniards living below the poverty line -- defined as making do on less than 60 percent of average national income -- rose to 21.8 percent this year from 19.7 percent in 2007, before the start of the economic downturn, according to the National Statistic Institute.
The number of households in which all members are unemployed soared to 1,425,200 in the third quarter of this year from just 379,300 during the same quarter of 2007.
"What is most worrying is the number of households with all its members out of work, this is very dangerous because it can have a deep impact on social stability," said Juan Carlos Martinez Lazaro, an economist at Madrid's IE Business School.
The rise in joblessness has led to an explosion in the number of home foreclosures.
There were 31,955 foreclosures during the first half of the year, near the record 47,809 during all of of 2010.
This economic downturn has had a deeper impact on living standards because it has lasted longer than past downturns, and it has hit primary breadwinners harder, said the head of the University of Navarra's social work department, Miguel Laparra.
The main breadwinner is out of work in one in ten Spanish households, a record high, said Laparra who coordinated a study on the impact of the economic downturn on poverty for Spain's FOESSA social studies foundation.
"In past downturns it was young people who lived with their parents or the partners of the main breadwinner who were most affected. When the main breadwinner is unemployed, the impact on the family is much greater," he said.
Half of all Spaniards have not been affected by the economic downturn while for a quarter it has led to a reduction in consumption but "without a great impact", said Laparra.
"For the remaining quarter there has been a pronounced impact on basic living conditions. They are forced to give up key goods like medicine or paying for university studies," he said.
To survive, the swelling ranks of the poor are turning to charities for food, clothes and help paying utility bills.
The Spanish branch of the international Catholic charity Caritas provided aid to 950,001 people last year, more than double the roughly 400,000 who received aid in 2007 before the economy tanked.
Thirty percent knocked on Caritas' door last year for the first time in their lives.
"There has been an increase in the number of new people seeking aid while those who were already getting it continue to need it. It is a stagnation of poverty," said the secretary general of the charity, Sebastian Mora.