LISBON, May 10, 2010 (AFP) - The Portuguese government said Monday it wanted to make a deeper than planned dent in its public deficit next year, reducing the shortfall to 5.1 percent of output rather than 6.6 percent.
"In 2011 we are going to continue our efforts to reduce the deficit by 1.5 points more than what had been planned," Finance Minister Fernando Teixeira dos Santos told Portuguese journalists in Brussels where he was attending a eurozone finance ministers' meeting.
Prime Minister Jose Socrates on Friday said the public deficit target for this year had been lowered to 7.3 percent of gross domestic product from 8.3 percent.
To reach that goal, the government has decided to postpone certain investment projects, such as a new airport in Lisbon or a third bridge across the Tagus River.
The deficit last year rose to 9.4 percent, prompting fears in the eurozone that Portugal -- like Greece -- could have trouble raising money on the bond market.
The country's public debt burden came to 76.6 percent of output in 2009 and is expected to hit 86 percent in 2010.
The government has not ruled out a tax hike in order to meet its fiscal targets.
Despite its deficit and debt, analysts contend that Portugal will remain solvent.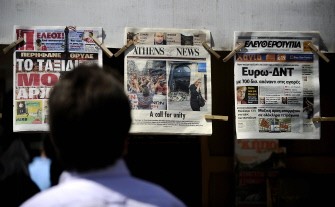 A man reads the newspapers front pages at a kiosk in downtown Athens, Greece, on May 10, 2010. AFP photo