Portugal ordered deep wage and spending cuts along with higher taxes to slash the public deficit by more than half, as Spanish unions called strikes against public sector wage cuts.
As governments stepped up their war on debt, German Chancellor Angela Merkel warned that the whole European Union would be under threat if the euro was allowed to fail in the debt crisis.
The European single currency slumped to a new 14-month low at 1.2517 dollars on Thursday amid persistent concerns over the debt crisis. Global stock markets were mixed as more eurozone countries slashed spending.
A late sell-off inflicted heavy losses on US stock markets, with investors spooked by news of a blast outside a prison in Greece and the specter of criminal charges against nine banks.
The blue-chip Dow Jones Industrial Average fell 113.96 points (1.05 percent) to 10,782.95.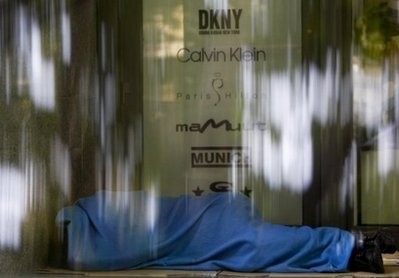 A homeless sleeps on the doorway of a shop in downtown Lisbon on April 29, 2010
Just hours later, in Tokyo Friday, Japanese share prices opened lower, with the benchmark Nikkei-225 index losing 167.15 points, or 1.57 percent, to 10,453.40 in the first minutes of trading.
After Greece's financial turmoil and debt downgrade to junk status, international attention has turned to Portugal and Spain, which have also had their debt ratings lowered.
Portugal's Socialist Prime Minister Jose Socrates cut the wages of civil servants and public officials, including ministers, brought in a new profits tax and increased value added tax by one percentage point to 21 percent.
He vowed to reduce the national deficit from 9.4 percent in 2009 to 4.6 percent by the end of 2011 and said a new income tax surcharge of between one and 1.5 percent would be levied on higher earners.
"All these measures will remain in place until the end of 2011," Socrates told reporters.
The government is also to freeze major public works such as a new Lisbon airport. Portuguese media called the government programme a "fiscal shock" and anticipated protests.
As a eurozone member, Portugal must keep its annual public deficit under 3.0 percent of output. Its public debt, 76.6 percent of GDP last year, is projected to widen to 86 percent in 2010, beyond the 60 percent eurozone rule.
Spain's Socialist Prime Minister Jose Luis Rodriguez Zapatero on Wednesday ordered a five percent pay cut for public workers, a partial freeze on pensions and the scrapping of a 2,500-euro-payout for new births as he seeks to save an extra 15 billion euros over two years.
Spain announced a 50-billion-euro (63-billion-dollar) austerity package in January designed to slash the deficit to three percent by 2013 from 11.2 percent last year.
But the move infuriated unions and the UGT union called a civil service strike for June 2. The CCOO union has also threatened a strike. The UGT called for demonstrations May 20 when Zapatero's measures go before parliament.
The Italian government is now considering a freeze on public sector salaries and new hiring, Il Sole 24 Ore newspaper reported. The government this week renewed a pledge to reduce Italy's public deficit from 5.3 percent last year to 2.7 percent in 2012.
Britain's new centre-right coalition also started discussing the economy on Thursday. The government has promised an emergency budget in 50 days that will aim to start slashing public spending.
New measures have been announced by governments on top of the 750-billion-euro (one-trillion-dollar) fund set up by the EU and International Monetary Fund to help debt-stricken eurozone countries.
Many analysts say the euro remained under pressure, however, because of Greece's problems raising money and fears this could spread. Germany's Merkel warned that this was a threat to the whole of the EU.
"If the euro fails, it's not only the currency that fails but much more, it's Europe that fails and with it the idea of the European Union," Merkel said.
Merkel called the crisis "the biggest test" for the EU, possibly since the founding Rome Treaty in 1957, but that it should strengthen the bloc.
"We have a common currency but we don't have economic and political union," she said, adding that one day "all European Union member states will have the euro as means of payment."
Australia's central bank warned that Europe's financial turmoil could pose a risk to Asian growth.
Assistant governor of the Reserve Bank of Australia Phillip Lowe said: "Despite the recent announcements having stabilised confidence in Europe, concerns about public finances could build again."