Pope Benedict XVI warned hundreds of thousands of young Catholics Thursday of the perils of pop culture and pillaging the earth's resources after a rapturous welcome at the world's biggest Christian festival.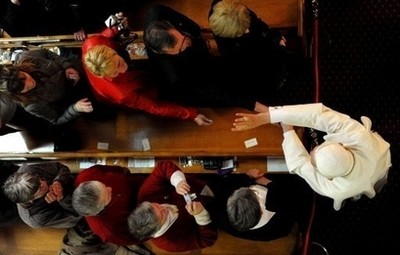 Pope Benedict XVI greets the faithful as he arrives at the Mary MacKillop Memorial Chapel in Sydney on July 17. Benedict XVI warned hundreds of thousands of young Catholics Thursday of the perils of pop culture and pillaging the earth's resources after a rapturous welcome at the world's biggest Christian festival.(AFP/Vincenzo Pinto)
Speaking against the spectacular backdrop of Sydney's famous harbour, the pontiff told pilgrims in Australia for World Youth Day that "something is amiss" in modern society.
"Our world has grown weary of greed, exploitation and division, of the tedium of false idols and piecemeal responses, and the pain of false promises," the pope said after a welcoming ceremony by Aborigines in tribal paint.
The pope told the vast mass of youths from around the world, gathered under a sea of national flags at Barangaroo wharf, that humanity was squandering the earth's resources to satisfy its insatiable appetite for material goods.
In one of his strongest-ever messages on the environment , Benedict spoke poetically of his long flight from Rome to Australia, saying the wondrous views from his plane evoked a profound sense of awe.
But the 81-year-old pontiff told his young audience that the planet's problems were also easier to perceive from the sky.
"Perhaps reluctantly, we come to acknowledge that there are scars which mark the surface of our earth -- erosion, deforestation, the squandering of the world's mineral and ocean resources in order to fuel an insatiable consumption," he said.
Earlier, ecstatic Catholics mingled with curious office workers as hundreds of thousands of people lined Sydney's famous harbour to watch the pope sail into an adoring welcome.
The pope's "boat-a-cade", a flotilla of 13 vessels led by a water-spouting fire tug and flanked by bodyguards on jet skis, glided past Sydney's iconic Opera House and Harbour Bridge en route to his World Youth Day debut.
Benedict arrived in Sydney on Sunday but took a four-day holiday before beginning his formal duties, which end with a papal mass expected to be attended by 500,000 people on Sunday.
Ahead of his public appearance, he was welcomed by Governor-General Michael Jeffery, the representative of Australia's head of state, Britain's Queen Elizabeth II, and Prime Minister Kevin Rudd.
In a brief speech at the ceremony at Sydney's Government House, the pontiff hailed Rudd's apology to Aborigines for past injustices in an historic address to parliament in February.
"Thanks to the Australian government's courageous decision to acknowledge the injustices committed against the indigenous peoples in the past, concrete steps are now being taken to achieve reconciliation based on mutual respect," Benedict said.
"This example of reconciliation offers hope to peoples all over the world who long to see their rights affirmed and their contribution to society acknowledged and promoted."
But there was some confusion over whether the pope would deliver an apology of his own -- to Australian victims of sex abuse by Catholic clergymen, as the scandal cast a shadow over the festival.
Benedict indicated to journalists on his plane on the way to Australia on Sunday that he would apologise but a Vatican official late Wednesday raised doubts over the issue.
"The pope in the plane spoke of the problems of sexual abuse but I don't think he said he would apologise and I advise you to listen to what the pope says," Jesuit Father Federico Lombardi, director of the Vatican press office, told journalists.
Rudd, a committed Christian who attends Anglican services, told the pope that he was welcomed by Australians of all faiths "as an apostle of peace."
After his arrival by boat and the harbourside address, the pope took to his more traditional "popemobile" for a journey through Sydney's streets, which were thronged with cheering spectators.
"We expect up to half a million including those in the venue for the pope's arrival and those lining the streets," said World Youth Day spokesman Jim Hanna.
World Youth Day, a celebration of the Catholic faith aimed at rejuvenating the church, has been held in a different host city around the world every two or three years since 1986.