Security forces backed by helicopters peacefully took control of Rio's largest favela Sunday in a major assault to expel drug traffickers ahead of the 2014 World Cup and 2016 Summer Olympics.
At 4:10 am (0610 GMT), hundreds of police special forces and 200 navy commandos punched their way into the Rocinha shantytown, in a bid to break the drug lords' 30-year rule there, as well as into the smaller Vidigal favela.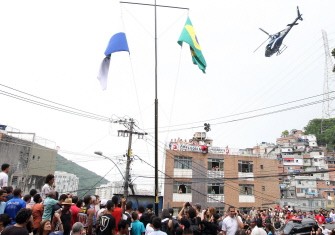 Local residents watch as BOPE police commandos hoist the Brazilian flag (R) to mark the zone as 'pacified', at Rocinha shantytown in Rio de Janeiro, Brazil, on November 13, 2011.
The high-profile operation in a city with one of the highest murder rates in the country is part of an official campaign since 2008 to restore security in Rio before Brazil hosts people from around the world for the two major sporting events.
Built on a steep hillside overlooking the city nestled between two wealthy neighborhoods, Rocinha is home to 120,000 people. Nearby Vidigal has a population of 11,000. Security forces also occupied a third smaller shantytown, Chacara do Ceu.
Security forces hoisted the Brazilian flag at both shantytowns, proud to announce government authority had been restored in a restive area that sits atop the road linking central Rio to the western districts where the Olympic village is due to be built.
"I have the pleasure to inform you that Rocinha and Vidigal are under our control. There were no incidents and no shots were fired," military police chief Alberto Pinheiro Neto told a press conference.
Rio state Governor Sergio Cabral informed President Dilma Rousseff of the success of the operation, which he attributed to close cooperation between local, state and federal police units and the military.
"We are rescuing this population which needs peace... People want to live in dignity and a life of dignity requires peace," the governor said.
Police said they seized 13 rifles, with telescopic sights and ammunition, as well as a grenade and an unspecified quantity of marijuana.
Authorities reported one arrest but said none of the estimated 200 drug traffickers still believed to be in the favela were caught.
Earlier this week, police captured Rio's drug kingpin Antonio Francisco Bonfim Lopes, also known as Nem.
Nem was caught hidden in the trunk of a car, along with several accomplices and a few corrupt policemen who were protecting them.
"Weapons, drugs, ammunition, (wanted) people are important, but returning the territory to people who for 30 years did not have control is no mean achievement," said Rio state public security chief Jose Mariano Beltrame, hailing the slums' "liberation."
Federal police said the pacification drive would continue and that they were counting on help from residents to locate larger caches of drugs and weapons.
After 7:30 am (0930 GMT), armored navy assets that provided support for the assault began withdrawing and public transport resumed in the area.
"The arrival of the UPP (police unit set up to pacify the favelas) will be positive for the new generations to put an end to narcotrafficking. I want my sons to stay away from trafficking," said 51-year-old Carlos Alberto, one of the few Rocinha residents willing to speak to the press.
But not everyone approved. A few women were seen crying.
All access to the two favelas had been blocked since 2:30 am (0430 GMT).
"We hope that the pacification will not be just about ejecting the drug traffickers but also to bring sanitation, education, health," said Raimundo Benicio de Souda, a 56-year-old community leader known as "Lima."
"There are people living (here) among cockroaches, urinating and defecating in a can," Lima told AFP, adding that "the pacification must have these people as a priority."
Favelas People's Movement president William de Oliveira said "We want the people to be treated with dignity, respect, that those who have been involved in crimes be jailed but not assassinated."
He wore an "I love Rocinha" shirt.
The capture of Rocinha, the 19th favela to be pacified, recalled the huge operation launched in November 2010 by joint police and military forces to seize control of Rio's Alemao favela, home to 400,000 people.
Alemao was retaken after three days of clashes that left 37 people dead.
Endemic and chronic urban violence has long tarnished the image of Rio, where more than 1.5 million people live in 1,000 slums spread throughout the city