BANGKOK, July 14, 2011 (AFP) - Thai wildlife police on Thursday said they had discovered several unregistered tiger and leopard cubs in a raid on a private zoo, raising suspicions that it was part of a smuggling ring.
Six big cats were confiscated in the operation earlier this week -- a pair of adult tigers, two tiger cubs and two leopard cubs -- with the four young animals lacking official documentation, the Thai Nature Crime Police said.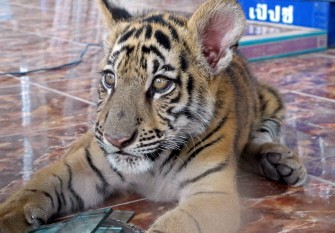 AFP - Handout photo taken on July 12, 2011 and released on July 14, 2011 by the Freeland Foundation shows a tiger cub at a newly-built zoo in Chaiyaphum Province, northeastern Thailand.
Police colonel Kiattipong Khawsamang said the owner of the newly-built zoo, in northeastern Chaiyaphum province, said the tiger cubs were the offspring of the older cats and promised to produce evidence of their legitimacy.
"He planned to open up a private zoo through which he tried to make illegal things legal," Kiattipong said. "An in-depth investigation suggested he has links with a wildlife trafficking gang."
Anti-trafficking group Freeland said the discovery "may confirm suspicions that the owner and other individuals connected to the zoo and related facilities have been laundering tigers, leopards and other endangered species".
The group, which supported the operation, said the unnamed zoo owner featured in a recent National Geographic Television film about the 15-month investigation into animal trafficking through Thailand.
Freeland said the zoo owner was probed after being linked to Sudjai Chanthawong, who was arrested in May and is suspected of being a kingpin in what could be the country's largest tiger trafficking ring.
Endangered species like tigers and leopards are allowed to be owned legally in Thailand as long as they are not sold, but Freeland said the zoo permit system "contains loopholes".
"As the law stands, police have to constantly and tirelessly find ways to outwit unscrupulous traders," said Freeland director Steven Galster.
"Based on tip-offs we have received, I am confident that if they keep looking, authorities will find more evidence and more bloodstained money."