Suspected rebels killed 16 villagers in eastern India, tying them up before shooting them over a land dispute, police and local residents said Friday.
Deputy Superintendent Ajay Pandey told AFP that more than 50 armed rebels had attacked the village in Bihar state on Thursday night and singled out the members of three families.
"They woke them up, tied their hands and legs and gunned them down," Pandey said, adding that five children were among the 16 killed.
The village was in Khagaria district, 200 kilometres (125 miles) north of the state capital Patna.
According to Pandey, the attack was the result of a land dispute between two groups in the village.
"The rebels were used by one group to kill the other to gain control over the agricultural land," he said.
India's rebel insurgency, which started as a peasant uprising in 1967, has spread to 20 of the country's 29 states and claimed more than 600 lives so far this year.
The rebels say they are fighting for the rights of neglected tribespeople and landless farmers but officials accuse them of using intimidation and extortion to secure the cooperation of impoverished villagers.
Just last month, Prime Minister Manmohan Singh rebuked regional police chiefs for failing to stem insurgency, which he described as the greatest threat to India's internal security.
A villager who survived Thursday's attack, Ranjit Singh, spoke of local anger at the authorities' failure to heed several warnings that such an attack was imminent.
Singh, 50, said the rebels had ordered a group of villagers to stop planting crops on a piece of disputed land four months ago.
"We had informed the local administration about the threat but they ignored our complaint," he told AFP by phone.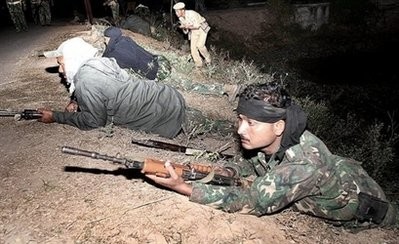 File photo shows an Indian solider taking position in Jehanabad, some 45 kilometres south of Patna in the eastern Indian state of Bihar.
Little is known about the movement's shadowy leadership based in the dense forests of central India's Chhattisgarh state, or its cadre strength which is variously estimated at between 10,000 and 20,000.
As the years have passed, the rebels have grown more brazen in their operations.
In 2007, they assassinated a federal MP and engineered a mass prison break for 300 of their jailed fighters. Last year witnessed the sinking of a boat carrying elite commandos, while in April this year, they briefly held an entire train with 300 passengers hostage.
"I would like to say frankly that we have not achieved as much success as we would have liked in containing this menace," Singh told the police chiefs in September.
The Indian government recently launched a grisly newspaper campaign to discredit the rebels, running graphic photographs of the rebels' victims with the tagline "These are innocent people -- victims of Naxal violence".