KUALA LUMPUR, July 9, 2011 (AFP) - Malaysian riot police on Saturday fired new rounds of tear gas and used water cannon to disperse thousands of protesters demanding electoral reforms.
More than 500 people have now been arrested, police said.
AFP reporters said about 8,000 protesters fought back repeated tear gas and water attacks in front of a downtown bus station and were now in a standoff with the police.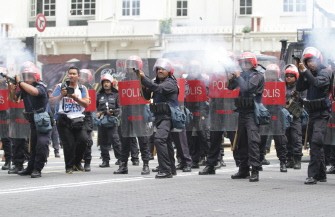 AFP - Malaysian police fire a tear gas onto protestors prior to a mass rally organised by Bersih 2.0 calling for electoral reform in Kuala Lumpur on July 9, 2011
A few hours earlier police also used tear gas in an attempt to disperse a crowd at another area.
Groups of protesters managed to evade police roadblocks and gathered in front of the Puduraya bus station, swelling the crowd.
Many of the protesters were shouting "Reformasi" (Reforms), "God is great" and "Long Live the People."
Organisers said they will attempt to march to the Merdeka Stadium to hold their rally there.
Police have banned the demonstration, saying it is illegal and have sealed off the capital since Friday night.
A police helicopter was hovering in the area, an AFP reporter said.
Police said on their official Facebook page that 514 people had been arrested.
"Why is the government trying to intimidate citizens?" said Mohamad Manij Abdullah, 50, a businessman, who joined the rally.
"We are only trying to reform elections and have a free and fair government," he told AFP.
Student Chew Ai Nee, 30, added: "We have to take to the streets because we have not been given any oppportunity to express changes and make changes... The government cannot silence us when we march."