KUALA LUMPUR, July 9, 2011 (AFP) - Malaysian police Saturday arrested two top leaders of a group that organised a huge protest rally to demand electoral reforms, organisers and one of those nabbed told AFP.
Ambiga Sreenivasan and Maria Chin Abdullah were arrested as police used tear gas and water cannon to disperse thousands of protesters in the capital Kuala Lumpur.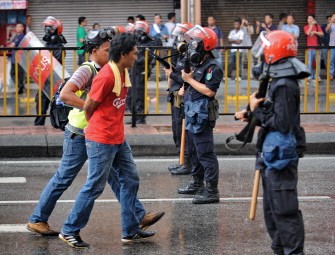 A detained protester is led away by plainclothed Malaysian policeman at a mass rally calling for electoral reform in Kuala Lumpur on July 9, 2011.
"Ambiga and myself have been arrested by police," Maria Chin told AFP as she was being transported in a police van to an unknown location.

She added that Ambiga had been taken to a local police station.
Ambiga, 55, is the leader of Bersih, the broad coalition that organised Saturday's protest rally demanding the government carry out electoral reforms before general elections widely believed to be held early next year.
A former president of the Malaysian Bar Council, Ambiga was one of eight women worldwide to receive the US Secretary of State's Award for International Women of Courage in 2009.
About 8,000 protesters defied baton-carrying riot officers in front of a downtown bus station, retreating at times and regrouping to push back police lines in a cat-and-mouse confrontation.
The demonstrators fought back by picking up tear gas canisters which they lobbed back at police, AFP reporters said, noting that a downpour had dampened the stinging impact of the chemical irritant commonly used in crowd control.
Protest organisers said they will attempt to march to a stadium where they had earlier planned to hold their rally and which has resulted in lockdown as the government seal offs large parts of the city with barricades.
"Why is the government trying to intimidate citizens?" said Mohamad Manij Abdullah, 50, a businessman, who joined the rally.
"We are only trying to reform elections and have a free and fair government," he told AFP.
An official police Facebook page said 514 people had been arrested.
Despite the clampdown, pockets of protesters managed to evade roadblocks and gathered in front of the Puduraya bus station, swelling the crowd, while a police helicopter circled overhead.
Student Chew Ai Nee, 30, said: "We have to take to the streets because we have not been given any opportunity to express our demands for change... the government cannot silence us when we march."
Many of the protesters were shouting "Reformasi" (Reforms), "God is great" and "Long Live the People."
Police have declared the protests as illegal, warning of street chaos.
Mukhriz Mahathir, a leading member of the powerful United Malays National Organisation (UMNO), told AFP the government had to act to prevent anarchy.
"We cannot allow a minority group to protest and stir trouble in the country," he said, accusing protesters of provoking the police into firing tear gas "so that they can accuse the government of being heavy handed."
UMNO is the dominant party in the ruling Barisan Nasional coalition led by Prime Minister Najib Razak.
Downtown Kuala Lumpur, normally a hive of activity on weekends, was deserted Saturday as major roads into the commercial and tourist district were sealed off.
Public transport plying city routes was diverted, while long-distance buses were halted at terminals outside Kuala Lumpur.
Fears of violence have been highlighted because of plans by pro-government groups to hold a counter-rally.
Saturday's protest is spearheaded by Bersih (which means Clean), a broad but loose coalition of groups, including non-governmental organisations and opposition parties.
The demonstrators want reforms, including eradicating vote buying and preventing some people being allowed to vote several times during elections as part of a system which the opposition says favours the ruling party.
Meanwhile, about 30 Malaysians living in South Korea rallied in Seoul in support, after organisers called for solidarity walks and demonstrations in other countries including Australia, Cambodia, Japan, the United States and Taiwan.
Malaysia's opposition made major gains in 2008 elections against the ruling coalition but said they could have won more if elections rules were fair.
The country's next elections are widely expected to be called early next year, with the opposition aiming to end Barisan's half century rule.