Russian financial monitor Viktor Zubkov, nominated by the president as Russia's next prime minister, said on Thursday he would set out new government priorities at Friday's parliamentary sitting, reported RIA-Novosti.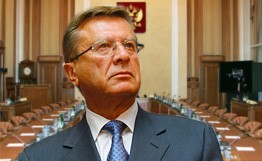 PM nominee Viktor Zubkov
Vladimir Putin nominated the head of the Federal Financial Monitoring Service for the post of prime minister following the dismissal of Mikhail Fradkov and his Cabinet on Wednesday, three months before parliamentary elections and six months before presidential polls.
In an interview with the Vesti-24 television channel, Zubkov said he intended to make the announcement at Friday's sitting of the lower house of parliament, the State Duma, at which lawmakers are expected to vote him in as prime minister.
"I will be speaking about the priorities that the government should highlight in the spheres of macroeconomic and regional development, and the development of our industry, electric power sector, and corporations," Zubkov said.
The head of the financial regulator confirmed earlier Thursday he was considering running for the presidency at the March 2008 elections.
On the social sector, Zubkov said: "I believe more attention should be paid to the social sector, particularly to the development of rural areas, which together are home to over 40 million."
The acting premier, Mikhail Fradkov, said on Wednesday he had no doubts parliament would approve the head of the country's financial regulator as the new premier. He also said he was sure the new government would continue the course taken by the dismissed government.
Zubkov was born September 15, 1941 in the village of Arbat, in the Sverdlovsk Region in the Urals. After graduating as an agricultural economist, he was in charge of state-run farms in the Leningrad Region, which surrounds St. Petersburg. From 1985 to 1991 he was a member of the city administration in Priozyorsk in the Leningrad Region.
From 1992 to 1993, Zubkov was deputy chairman of the St. Petersburg City Hall's external relations committee. Between 1993 and 1999 he was a senior official in the tax service, holding a number of different posts. From 1999 onwards he was a deputy tax minister, then first deputy finance minister, and finally appointed head of the Federal Financial Monitoring Service.