Prime Minister Nuri al-Maliki, a Shiite who helped ease sectarian strife, has emerged as the front-runner in Iraq's parliamentary election but could yet face a tough battle to cling to power.
The international community meanwhile continued to heap praise on the country for having held the election despite a wave of election-day attacks.
Maliki polled well according to early forecasts from Iraq's second general election since the 2003 ouster of Saddam Hussein that saw millions defy bomb, mortar and rocket attacks which killed 38 people to cast ballots. Related article: Vote a setback for Al-Qaeda
President Barack Obama, who has promised to withdraw all US troops from Iraq by the end of next year, paid tribute to "the courage and resilience of the Iraqi people who once again defied threats to advance their democracy."
A statement from the UN Security Council later Monday congratulated Iraqis for "demonstrating their continued commitment to a peaceful, inclusive and democratic political process."
Sunday's elections "represent another important step in the political process aimed at strengthening Iraq's national unity, sovereignty and independence," it added.
In Iraq's Shiite neighbour Iran, a foreign ministry statement said the election "once again shows that despite the existence of enemies' plots, it is the people who decide their destiny." Related article: Iraqis win praise for braving violence to vote
Estimates from the Baghdad region, which could swing the result of the vote, were unavailable on Monday, but officials said Maliki's political bloc was leading the count in nine of Iraq's 18 provinces.
Maliki's State of Law Alliance was ahead in Shiite regions, while Iyad Allawi, a former premier who heads the Iraqiya list, led in Sunni areas, according to estimates AFP obtained from officials across the country.
Turnout was 62.4 percent -- down from 76 percent in 2005 -- and reached 80 percent in Dohuk, one of three provinces in the northern autonomous Kurdish region, said Hamdiyah al-Husseini of the Independent High Electoral Commission.
"We have not received any complaints yet about the counting and collecting of votes," Amal Bairaqdar, another commission official, told reporters.
Husseini said initial results were expected on Tuesday. The complete results will be announced on March 18 and the final official results -- after any appeals are taken into account -- will come at the end of the month.
Months of horse-trading are then likely before a new government is formed.
Early indications were positive for Maliki, however. A source close to him said it now looked as if his list would secure 100 seats in the 325-seat parliament.
Maliki was appointed premier in 2005 as a compromise candidate, and his administration, with the essential help of the US military, sharply reduced the Sunni-Shiite sectarian strife that killed tens of thousands of Iraqis.
He played down his party's Shiite religious roots in campaigning for this election and sought to portray himself as the leader who restored security to Iraq, a claim dented by a series of bombings in recent weeks.
One analyst, however, said even if Maliki's list triumphed, his unpopularity among Iraq's many political parties might prevent him from remaining prime minister.
"His relations with the Kurds, who play a key role in parliament, are not good," said Hamid Fadel of Baghdad University.
"The Iraq National Alliance accuses him of concentrating power in his own office, and the Sunnis accuse him of launching a 'de-Baathification' process aimed at them," he told AFP, referring to Saddam's party.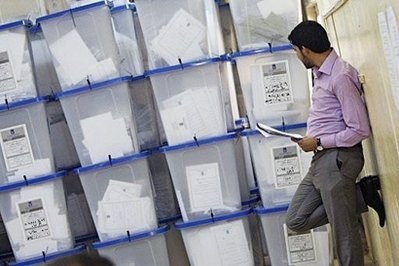 A member of the Independent High Electoral Commission counts ballot boxes stored at the group's headquarters in Baghdad
Maliki's main challenger, according to the initial estimates, is Allawi, whose Iraqiya list is a mostly Shiite slate that campaigned on a nationalist and non-sectarian ticket.
The other leading list is the Iraq National Alliance, dominated by two Shiite religious parties -- the Supreme Iraqi Islamic Council and the movement of radical leader Moqtada al-Sadr, who led two uprisings against US troops.
Sunday saw Sunni Arabs vote in large numbers, in stark contrast to their 2005 boycott in protest at the rise to power of the long-oppressed Shiite majority.
As Iraq counted the votes, Britain's Foreign Secretary David Miliband said London's decision to back the US-led invasion had earned it respect in the Middle East. Related article: Years before US can judge Iraq a success, says general
Giving evidence to a public inquiry into Britain's role in the conflict, Miliband insisted that despite the violence, Iraq now had the potential to be a beacon of democracy and human rights in the region.